Andreea Anghel is one of the young Romanian artists I am deeply interested in because she always surprises me with her approaches and concepts over time, her filter for all she does has fueled my curiosity to want to meet her personally.
Andreea graduated from the University of Art and Design in Cluj, the Graphics department, in 2012 after which she started her masters in Visual Arts in Wroclaw, Poland at the Eugeniusz Geppert Academy of Art and Design, later settling there. Perhaps these names don't ring a bell for some. But it's impossible not to have caught at least a glimpse of her work online, seeing as she has been present on art promoting platforms since her student days. It was due to one of these platforms, in 2012, that one of her works was broadcast on a giant screen in Times Square, New York, as part of the Art Take Times Square event. Up to this day, her evolution was spectacular from many points of view: conceptual, technical as well, the versatility with which she mixes materials and technical performances when it comes to execution – another factor would be the speed with which she reached an artistic maturity that most arrive at after 35 years of age (she is 27). Among her most important personal projects, I will mention: CERTEJ (IS) MINE (2015) – site-specific project at a Wroclaw factory, A Robot's Hand in A Supermarket (2017) – NEW NOW art space Frankfurt. I had the pleasure of including her, as a curator, in the group show Resurrected (2016) at Urania Palace in Cluj-Napoca and FIVE PLUS Art Gallery Vienna (which was part of the official Vienna Art Week 2016 program) and in Presence in Absence (2016) at Atelier Patru Cluj. Some noteworthy group exhibitions she was part of are Young Artists Incubator #1 – Factory Art Gallery Berlin (2012), London Calling – Factory Art Gallery London (2013), Post-digital Printmaking. Redefinition of the Concept of Matrix – curators: Aleksandra Janik and Zuzanna Dyrda – Neon Gallery, Wroclaw (2015).
If I could describe Andreea using only word, it would probably be "precocious". An extraordinarily fast evolution, doubled by the lucidity of passing from one artistic phase to another with atypical maturity. At first she gained recognition for her solid technical abilities, exploring the human body and the figurative via sketching. The seduction of a spectacular technique that guaranteed easy success did not trap her into a comfort zone; she constantly reconsidered her route, abruptly switching to a more experimental area in which the aesthetic was not replaced by concept, it potentiated it. She understood from very early on that contemporary visual art is not just expression, it is language.
After leaving Cluj for Wroclaw for her masters studies, Andreea went through a new artistic phase in which she experimented with anything mixed media and ready made: objects, large-scale prints, neon lights, photography, cement, textile fabrics. She begins questioning what it means to be contemporary relevant, how does one pertinently materialize an idea and how does one contextualize it?
She approaches social subjects and begins to think site-specific. This particular exile that she herself build as an artist, keeping in touch with Romania whilst choosing to detach herself from it. She somehow remained an outsider to artist groups and type of "schools", she always gathered what she needed from the contexts she was in and built herself as a human in an admitted professional seclusion.
Thus CERTEJ (IS) MINE (2015) was made, her most important solo project, site-specifically designed for an abandoned factory in Wroclaw with its subject the 1971 disaster near the Certej mine in Hunedoara county. Nearly 100 people died when the tailings pond dam at the outskirts of town was broken and the toxic mud containing cyanide engulfed an entire working district. The title is in fact a play on words, with "mine" referring to both a mineshaft and the pronoun. The Certej mine was on Romanian soil, adding to the feeling of kinship for this tragedy, yet the literal soil cannot be reclaimed if there is a mine there. The exhibition marked a turning point in the artist's experimental process, where she coherently and spectacularly mixed traditional media with new media in order to both critically and personally treat a dramatic subject in Romanian's recent history, perhaps lesser know, but matching the extent of Roșia Montană at the time.
Blackface (2016) is a series of works that take Andreea back to traditional techniques such as painting, creating so-called "situationist" paintings – put in a relation with contexts and objects that confer a particular meaning and propose an ironic story around them. Blackface is part of a series of portraits with latex masks taken straight out of BDSM scenes, imagined and accompanying banal, everyday objects for the contemporary man. She desexualizes a cliche subject, integrating it as a metaphor of subconsciousness within the consciousness by placing the works in so-called "domestic" situations. Part of this series was presented in the group show – Presence is Absence at the artist-run space Atelier Patru in Cluj-Napoca along with artists Gabriel Stoian and Maria Sicoie.
A Robot's Hand in a Supermarket (2017), her last solo show at NEW NOW art space in Frankfurt was fully conceived using new media, with photography installations, large-scale prints, ready made objects and sketches on latex which humanize some harsh realities of the world we live in via the type of images and symbols subtly inserted and added to the compositions. The project is shaped as a mute protest facing some of man's perception paradoxes who manifests willingness and much interest for a future world: AI, hi-tech technology, SF – detrimental to the present, constantly affected by moral, social and political degradation. Contemporary man gradually becomes less empathetic to his immediate reality which directly impacts him and is, instead, dreaming of a futuristic world that is slowly chipping away at his humanity. Thus man's desire for evolution becomes absurd, forgetting its substratum and purpose.
I have invited Andreea to tell us more about her activity, her practice in the studio, her evolution over time and the conclusions she reached up to now:
"After setting up my second studio at the beginning of this year I felt a sense of urgency, that feeling you get when you're constantly paranoid about getting kicked out of your rent unexpectedly and/or on short notice (Murphy's laws always apply to these types of things…), basically your everyday precariousness when you're lower/middleclass. So I slowly started to literally force my brain into getting out of its usual comfort zone, to try different ways of thinking about an artwork and what it might mean. I first started getting this feeling when working on what I consider my most important project to date, Certej. The project came about after finding archived images of the Certej disaster from 71′. Of course, I felt this urge to just draw them. But while working on said drawing I could not picture myself as limiting this vast source of information to just drawing; I found that kind of, well, boring to be honest. So while doing my research on the entire history surrounding the site I started to see that there are so many ways that I could deal with the subject which does not involve a singular technique, and that I might as well have an 'anything goes' mentality, as long as it remained within some self-imposed moral limits due to the delicate nature of the event. I started feeling like a kid in a candy shop. So many possibilities, so many styles, so much to choose from. I did not want, from the start, to have my work seen as a formula, as a specialty, as something easily recognisable in a group show or in an instagram feed. I understand the risks that come with this choice and do not invest that much thought on the matter, because it would be too much of a subjective exercise to try and imagine how somebody perceived my work, primarily because I myself have moments when I'm unsure how I perceive them. At the same time, my constant state of precarity in terms of studio space kind of did me a favour, as I did not and do not have any kind of second thoughts when trying something new, because you've got literally nothing to lose. Of course, from a pure technical point of view there would be so many aspects to improve on but this is a well-worn trope; it did maybe make me consider the fact that it would be unbelievably useful when having a more forward-thinking curricula in terms of art school curricula; it would be a definite plus to include a bit of each discipline and have a more all-encompassing approach to classes and studios, because I myself lack certain basic skills and sometimes have a hard time outsourcing some of the production.
Regarding appropriation and this need for new in general, maybe one of the reasons why I'm so into this type of work is just a primary need to explore how this applies to different contexts, both on a cognitive level as well as a moral one. All recent blockbuster movies deal or exploit our innate nostalgia and comfort zones, remixing the same old tropes with no risks involved, and I would argue that in a good deal of instances this can be seen in contemporary art as well, whether it be artists with extremely similar styles, or exhibitions all over the world looking the same, galleries following the same formulas, the postinternet wave etc. . You grow up being taught that stealing, copying is bad, and that you will be punished, and that you should have a high level of original creativity, which in real cases is mostly either unsustainable, or impossible to achieve if you are not naturally prone to being inquisitive. But sometimes what one maybe fails to realize is that maybe appropriation or adopting an already-existing style is a means to a different end, if you regard them as materials, as Jerry Saltz recently pointed out. If you treat it as a material, a base onto which you can work out something new, even if it's just for your own sake, should not be seen as something bad, because sometimes an artists way of thinking is too specific to be kept in within one boundary. I fail to understand how some can develop egos and be condescending when their works can easily be included into one particular wave of aesthetics or concepts. And if you were to consider it from a psychoanalytical angle, you'd be tempted to believe that maybe that which is denounced and feared comes from the fact that deep inside the accuser is guilty of perpetrating the exact thing (e.g. homophobes who adopt this stance to shield their inner guilt or even artists being against others 'copying their style' even though the same came be proven in their case). It's a process, and if some don't have enough patience and interest to maybe see where this endeavour might go miss the point entirely. I do consider that the ubiquity of social media does bring out the worse in people in the art world sometimes, wether it be grudges, envy or aggression, and I'm currently so detached from all of these things that I find it funny when I see them. Mind you, I read way more than your average person and do sustain meaningful social interactions, which I tend to cherish all the more so because they are in a quantity which I can only describe as the complete opposite of excess.
Regarding my education, if you will, I gradually stopped wondering 'what if I'd have gone to a proper school' and started to think that i have no interest in being in the privileged position of a high profile art school graduate who gets spotted at a gradshow and is immediately offered a solo show at a trendy gallery or just by not considering that i'd need to make it my life's purpose to achieve some kind of institutional recognition, which runs contrary to recent obsessive needs to have artists acknowledged while still young. This generally puts too much pressure on artists and does not allow, at least in my case, for a critical way of assessing both my art and which direction I'd like to go with it. Part of the need to switch, experiment with new techniques emerged from anger at myself for being conditioned to not step out of my drawing safe space. I had to force myself to engineer works differently and to reject this way of thinking that was so deeply embedded in my mind that I did not even realize it (that's the true problem of academia, it does not make itself obvious to you until it shows how utterly stuck you are into its legacy). Let's put it this way: people from Bucharest (friends of friends) whom had never had an encounter with me personally where labelling me as 'that chick who draws'. I considered that label as so demeaning. so shallow that it made me feel so frustrated and geared up towards, well, proving them wrong, because I saw myself as so much more than just somebody who draws the same shit that'll eventually make people lose interest and just move on and leave me in my plush art bubble. And that's another way in which my brain tricked me: at the time I lacked a certain kind of analytical introspection, I was unable to see that yes, those works were, to a certain degree, shallow, because when you're 20-21 you don't by default have so much depth to your thought and yet, due to people admiring your skills mostly, you see your subject matter and medium as a given and don't take the time to question yourself. I started doubting myself up to the point of mental breakdown and depression when I really got into instagram and I saw just how fresh and interesting art made by my peers and my generation can be; and you feel a bit like you're one lap behind, but you're kind of happy running two times faster to catch up because right now, for the first time ever, and this might sound a bit stereotypical, but I'm actually having fun making art, enjoying trying something new that I've wanted to do previously but was too scared or too broke to go for it, looking forward to people's reactions to new works as opposed to a kind of smug entitlement combined with fear of rejection. And being in solitude kind of makes you realize a bit that in the end being in a situation when you simply stop and take a look at yourself and finally ask 'what the hell do I want from my art?' Is both painful and the best thing you can do. Mind you, it's not a clear cut process; I'm still a nihilist on a day-to-day basis, constantly second guessing myself and pushing back those small voices of reason that tell me to go back into my comfort zone, but I now know that that would be the most boring, uninteresting thing that I could do. I mean, I have good friends who, half-mouthedly urge me to try and stick to one thing, instead of jumping/switching from one concept or media to the other, so that I'll develop a consistent fan base and even collector base, but they fail to consider the fact that I'm the type of person who right now is 100% happy with not showing my work publicly (not to mention the inherent risks of being catapulted to mild fame when you're still young and developing as an artist and the types of art folks who profit from it), who feels much more comfortable faced with the uncertainty of the public's reaction to the works when they do get exhibited (kind of antithetic right?) as opposed to just sticking to one thing. I came to this conclusion not necessarily by observing's people's reactions to my work (I'm still a bit too young to have a comprehensive oeuvre, if you will) but by acknowledging what types of art and especially which artists appealed to me personally and why. If I'll see an artist's show that I'll like, i will probably not like the next one as much if it's in the same note as the first; and it's not about the novelty aspect of it, it's more about having the feeling that the artist is inviting the public into his private echo chamber and shutting the door with the people in it; it's rather unfair to expect so little from an audience that can always surprise you. That's one reason why I cherish the opinions/feedback/reactions of individuals who have no art background but exhibit a native curiosity and openness to art. You take all the foul stuff, all the art world out of the experience and you're sometimes left with an almost childish wonder at an aesthetic experience, as well as a simple, honest explanation as to what mechanism inside got triggered by the encounter with your works. Not to mention the fact that I've come to wholeheartedly agree with McLuhan's argument that the medium is the message.
Ah, and while we're on the subject of non-art folks (although the people I'm talking about are, by default, as artists as they can be), my partner of now 7-years, whom I've of course met here in Poland, happens to be a musician and he surprisingly opened my mind to just how interesting of an effect music as an experimental medium can have on my practice. I'm not talking about me getting into making experimental music or sound art (although believe me, it is unbelievably tempting and I have dabbled into it a bit…) but in embracing this type of music and especially listening to its creators, to their own creative process. For a type of music that is so cognitive and, dare I say it, intellectual (I'm mostly referencing sound artists, tape musicians and contemporary composers from the 60s-70s up to pioneers of analog synthesis, the laboratory kind) the way they describe their process and their attitude towards it is rather lighthearted and honest, with chance encounters, failures, hard work and serendipity as the main parts. I find their type of discourse so appealing because it lacks the hermeticism and elitism of the contemporary art world. And even though we do use these terms to define some of the more famous or established artists, failure and chance are at least two things most contemporary artists run away from or are scared of or try as much as possible to avoid or to control. Again, it is something that is usually taught or learned beforehand. My art-career up-to-now if you will has been a series of failures, chance encounters and hard work combined and, while it might have put me through several setbacks (from the lack of let's call them art-connections up to almost no current art visibility, not to mention being for the most part misquoted or taken out of context) it made me humble and it made me focus even more on what I'm doing.
Of course, choosing to live in a different country did inflict a visible change to my recent practice, and I tend to see it as an attempt to have a more universal type of language as opposed to a concentrated, local one. For example, Certej dealt with a local, forgotten event, primarily due to Government censorship, in an attempt to include it in the more larger dialogue currently being carried out regarding the Anthropocene, democratic principles, how easy it is to bury or forget the past and social issues (these are subject matters that I am sensible to and react to without any active effort towards it). The thesis I wrote based on this project, which sums up my research on the subject spanning two years, attempts to show that there is a certain amount of universalism to these types of events regardless of location or timing, by means of comparing and drawing parallels between this and other strikingly similar events which were not necessarily mining-related, dedicating a significant amount of thought to the social implications of doomsday scenarios taking place with a (social/new) media filter.
As I tend to use digital media and corruption of software/hardware as a parallel discourse between how I as an artist choose to respond to my own guilt of not seeing any silver linings to what's happening in today's society and being either nihilistic or at least uncertain of the future, I've also developed at the same time a need to make what I call sad beautiful objects, artworks which do deal with subject matters ranging from my own personal cases of abuse up to collective emotions such as irony, hate, fear, nihilism, apathy, artworks made to look the opposite of what they portray or reference or allude to, infusing an eerie aesthetic sense to a subject that might otherwise be unsettling.  I do this because I view my means of communication through art as a highly engaged, even activist one, and in order to achieve a certain level of empathy or emotional engagement from my audience I sometimes abuse my tools of the trade or resort to techniques or motifs which some might find offending or simplistic (again, a rather reductive take on art in general). Mostly these artifices are thought-out and planned beforehand, sometimes they are spontaneous. But, coming back to how experiencing life abroad changes your views (even though in my case it was more a case of fulfilling them, as I never had any kind of sense of belonging to a place, quite the opposite), you sometimes see just how specific and unique developments such as political correctness and a new wave of (I hope) growing feminism tend to be, and how hard it can be in some cases to export these notions to countries that have different social factors, and how do you as an artist adapt and respond to different cultural microcosms and even whether or not you wish to be such an artist in the first place. Also, the role of an artist as the canary in the gold mine, where art is more responsive to change or to a series of events or a local geopolitical instance can be a win-lose situation, since an artist tends to be seen as being of value if his/her/their work resists time (how will your work be seen/perceived in 100-years-time? Will it still be relevant?), which is not something that can characterise today's art nor should it, since in an age of hypernormalization, as Adam Curtis put it in his fast-paced subjective documentary, the role of the artist is changing and expanding as fast as our Facebook feeds. And I find it interesting to see how works of less affective immediacy in terms of medium, such as conceptual works, minimalist works, abstract or process paintings, so works that primarily rely on perception, can be subverted to this end. At some point it is extremely challenging as well as rewarding to delve a bit into the subconscious to try and move something from within, to try and make an abstract painting for the times we're currently living in, capable of communicating the way a Jackson Pollock or a Mark Rothko does to this day while avoiding the catastrophic shallowness of zombie formalism.
I hope to have a much more evolved body of work in terms of artistic discourse in the near/far future, focused more on cognitive aspects if you will. For the time being I still feel as if something is lacking in this area, both internally as well as externally, and that sometimes my discourse still comes off as too simplistic (at least based on my requirements). I hope to not slide into hermeticism, to retain humanity in my works. Recently I've taken great pleasure in inserting small ironies and humour here and there, and I'd like to explore more of this side in the near future, as a sort of balance to the intrinsic seriousness of my subject matter."
POSTED BY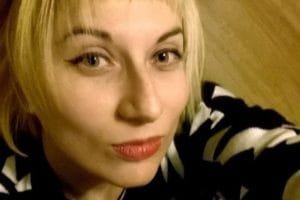 Ada has a BA and an MA in Graphics from the National University of Art and Design in Cluj-Napoca, and is currently a PhD student at the same institution. She is an artist active internationally and oc...