Bucharest International Experimental Film Festival 2017 has just ended. At its seventh edition, the festival continues, while improving upon, the formula it has worked to establish along the years, that of bringing together noticeable feature and short films from international festivals (this year namely Rotterdam Film Festival, Cinedans Amsterdam, Berlinale Forum Expanded, and La Quinzaine des Réalisateurs), as well as to popularize lesser known works, while nurturing the development of a local scene.
While last year's edition featured a program of Romanian films by older directors and by young artists who aren't specialized in cinema alike, in addition to the Romanian films present in the other programs, this year's edition featured only three Romanian productions in total, which automatically competed for the special prize for best Romanian director. What BIEFF 2017 brought new for local aspiring filmmakers was a panel discussion with three guests: Nora Molitor (a representative of Berlinale Forum Expanded and Arsenal Institute Berlin), Paolo Moretti (Member of the Selection Committee, Festival of Documentary Film FIDMarseille), and Boglárka Nagy (manager of film projects and programmer of Elvire Popesco Cinema), which covered topics like building a network, documentation, the format a film should be sent to a festival, dealing with expenses, the possibilities of collaborating with cultural institutes (Boglárka Nagy affirmed the French Institute's openness to such projects) as well as debates on when is the best time to make your short film freely available online. The number one general advice was "be patient and don't despair upon facing rejection", especially in the niche of experimental film, where, to paraphrase Paolo Moretti, the qualities that made a programmer reject your film for one competition can be the qualities for which it is accepted in another.
On the benches in front of the entrance to the Horia Bernea Studio within the Romanian Peasant Museum, in the company of cats, or on those in the French Institute's courtyard, by the stairs leading to the Elvire Popesco Cinema, under the falling fragrant petals of spring flowers of various trees, the pre-screening atmosphere outside was sunny and serene, while inside, after a screening, in a slightly more dynamic setting, one would often be stopped by energetic badge-wearers to be asked about the films or the general atmosphere. At the Q & A sessions, the audience and the guests were able to (mostly) successfully discuss everything from techniques to concepts, from funny anecdotes regarding production and distribution, to insightful comments on society, without the mediation of a translator, though, granted, there wasn't a lot of debating involved.
This year's edition of BIEFF took place only at the two locations mentioned above, both of which were packed, especially during the later screenings. The screenings of the two feature headline films – Endless Poetry (Alejandro Jodorowsky, 2016) and Manifesto (Julian Rosefeldt, 2017) – were sold out days before the event. This is one among multiple signs that the taste for experimental films is locally on the rise. With a lot Bucharest's state cinemas not meeting safety standards, and in dire need of renovation, and with the expenses of renting out the space of shopping mall cinemas, the organizers will need to get creative, in terms of space but also of events, in order to accommodate a growing audience of producers and viewers.
Stylistically, there was, as expected, a lot of variations between the works, which, like every year, were grouped thematically, with filmmakers exploring new media and finding innovative solutions to problems of representation, with their own unique aesthetics, some picking up on ideas and imagery floating around in (cyber)space and dialoguing with them in original ways. The New Aesthetic look given by the use of computer graphics was a feature that was quite present in multiple films, always integrated into the movie's discourse, aware of their status and associations, always containing meaning. Max Grau's «[…] craving for narrative» (2015) really set the tone in this direction. Starting out as a series of snarky comments over a loop from the movie Grease (1978) which the director inexplicably put together, it becomes, starting from personal stories, an incursion into the craving for the linearity, the meaningful narratives of the past in an ever-troubled present, manifesting itself today in, to give an example at hand, vaporwave aesthetics. These graphics evoke feelings of nostalgia and ruin in Jorge Jácome's Fiesta Forever (2016), while in Critical Mass: Pure Immanence (Anne de Vries, 2015) and in Painting With History in a Room Filled with People with Funny Names 3 (Korakrit Arunanondchai) they imply the interconnectedness of all things, with technology as a means for transcendence (in the former) or as integrated into spiritual experience (the latter, where the narrator dialogues with a drone as with a spirit, and where art and rituals throughout history follow and blend into each other harmoniously).
Spatiality and power also came into question. Constructed landscapes, for instance, allow us to explore the inaccessible, DMZ (demilitarized zone) between the two Koreas, from above and from below, in Hayoun Kwon's 489 years (2016) and even to see it exploding and bursting into flames, in other words to imagine together with the narrator the landmines gone and the fences destroyed.
That is not to say there was an absolute convergence of discourses, for it is precisely the variations that give such a festival its charm. For example, technology is imagined rather bleakly by Clemens Von Wedemeyer in ESIOD 2015 (2016), for instance, in whose world data and currency have fused into one, where people's memories are stored and transacted with in banks.
Pervasive issues regarding the body and gender also came into question. On the aesthetic level, the program titled Emotional Bodies (films featured at Cinedans Amsterdam) showed everyday scenes and environments rendered novel through contemporary dance. The Politics of the Body took a more vocal approach to corporal liberation. Despite the pervasiveness of the body as a theme in modern and contemporary art, in discourses of empowerment and emancipation, stories told by the sex workers/ therapists from Night Soil – Economy of Love (Melanie Bonajo, 2015) about women's difficulties in coming to terms with their own bodies and sexualities show there is still work to be done. The same with the mob mentality (in the directors' own words) laid bare in American Reflexxx (Alli Coates and Signe Pierce, 2013), filmed in Myrtle Beach, South Carolina, in which performance artist Signe Pierce, donning a short dress and a reflective mask walks down the streets, breaking into dancing a couple of times. To this unusual appearance people's reactions range from making jokes, to calling out her manhood, to assaulting her, all under the eyes and cameras of a pursuing crowd.
In the eponymous program of the festival, You Are Another Me (the translation of a traditional Mayan greeting), a cast of all-European directors, save one, brought to the screen a series of devastatingly vivid (save one) tales of war and immigration, the voices, of course, belonging to real people. Meant to be troubling and challenging, but also aesthetic and melancholy, the program was an exercise in empathy, which, viewed in the context of the festival, merged with other subversions, from those of gender roles, to those of stereotypical Hollywood narratives, to those of film as a medium. (For these last three categories, I recommend, if you get the chance: Man (Maja Borg, 2016), Eden's Edge (Gerhard Treml, Leo Calice, 2014), and Bring Me the Head of Tim Horton (Guy Maddin, Evan Johnson, Galen Johnson, 2015)). Overall, BIEFF 2017 was a vast meeting space of discourses and ideas, from which, however, I think it was hard to feel alienated. I highly anticipate next year's edition and hope the festival will be able to expand in all possible ways.
BIEFF (Bucharest International Film Festival) 2017 was between March 28th and April 2nd at Cinema Muzeul Țăranului and Cinema Elvire Popesco.
POSTED BY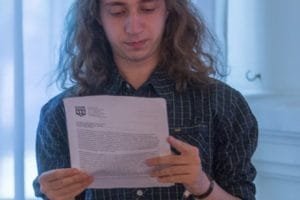 Rareș Grozea (born 1995) got his B.A. in Art History from the University of Bucharest and is currently studying for a Master's in Berlin....