Corp. is the first Romanian feminist platform dedicated to promoting women on the electronic music scene. Admina, Beatrice Sommer, Cosima and Chlorys founded an artistic group aiming to overcome the heterosexists boundaries of the scene and to offer equal opportunities for women who attempt to make a name for themselves in this field. Corp. challenges the predetermined rules within a stage exclusively dominated by men. Corp.'s activity combines partying with political education for equality and human rights.
Please tell us who you are and what are the preoccupations that brought this group together? 
Cosima (von Bülove): I'm Cosima, my real name is inspired by Wagner's wife. My initial stage name would reference this family, but after reading some more on their relationship with Nazism I decided to flip the semantics a bit with a queer twist. I have no musical studies, I studied architecture. At some point I became part of a context in which music was produced and played along with my brother. Making music seemed difficult from many perspectives, from resources to the sometimes hostile environment, but I fancied the idea. I was part of the Raze de Soare project together with Ion (Dumitrescu) and a few other production trials after that. Only after the idea of this group came up, during a random meeting, that it started to make sense for me to pursue music as a main occupation.
Admina: I'm from Timișoara, my initial name was Admin because I did not want my name to be associated with a gender. A friend added the "a" at the end and I thought it worked. I studied visual arts and then I started playing music. I played at Tam Tam for almost 3 years, a queer independent space in Timișoara. Now I have over 6 years of experience in music and I've also tried my hand at experimenting with some personal productions. Chlorys' idea of combining our forces within a group motivated me to get more seriously involved. We need to become stronger. In the beginning we weren't so bold, but we slowly realized how important we are and the political relevance of this group. In Berlin we realized how important we are as a group and how significant women's solidarity is in the contemporary society! We're the first platform of its kind in Romania.
Beatrice Sommer: I'm from Bucharest and I study anthropology, I studied one year of journalism prior to that in 2013, after which I realized that I don't want to learn to write shocking titles so I quit. During that time I started organizing my first musical events in Bucharest. I collaborated with Sunete magazine, I was a VJ at all sorts of events, I wrote for the Attic Magazine and I was the PR and copywriter at Ponton. I was part of the music scene without making or playing music. Only in the last 2 years did I reach a level where I felt confident enough to do it. Before doing this as a Corp. member, I only played one time when Paul Dunca invited me to DJ at a Queer Night. I think it was Chlorys or Cosima's idea, I'm not sure.
Cosima: I think it was a common idea discussed with Paul and Chlorys. At Queer Night we are always on the lookout for "fresh talents", self-identified queer people.
Beatrice Sommer: It was an opportunity for me. I was happy to be invited though I was very nervous. I wanted to play music but I never got any support. Prior to this I had one other gig at Out of Control – it's still my favorite gig. I could play anything due to the concept of the series which offered the chance to play music to people who aren't usually active as DJs. For almost 6 hours you could hear whale songs, noise, lots of avant-garde and lots of experimental.
Chlorys: Chloris is a character from Greek mythology, the nymph of flowers, vegetation, spring and rebirth. She makes an appearance in Botticelli's Spring painting as a character with flowers coming out of her mouth. I saw myself in this representation seeing as I have a background in visual arts (I studied photography and video at UNArte) and I tend to think in images. Meanwhile, the passion for music was growing in me and I started mixing from home, I would post my mixes online and so I got invited to play at a Queer Night.
Admina: I also debuted at Queer Night.
Cosima: Come to think of it, I think I also played music for the first time at Queer Night.
So you all had your debut at Queer  Night. Is there a connection between Corp. and the queer culture promoted by Queer Night?
Chlorys: When we came up with Corp.'s identity we immediately knew we wanted to talk about queer intersectional feminism. Besides, most of us identify as being part of the queer spectrum, and so the association of Corp.'s identity with queerness is imperative, feminism must include LGBTQAI+ pleople's rights.
What is Corp. and what are your aims with this platform?
Cosima: Corp. Platform came to be a necessity after closely analyzing the scene we were a part of. We are party consumers, present in the Bucharest night life, we enjoy listening to electronic music amplified on a good sound system, dance and socialize. So we had the time to study various phenomena and directions within the local clubbing scene. A first observation that has been constantly reconfirmed along the years is that women are missing from this scene. From DJs, promoters, producers, etc., this field is exclusively male. Even the audience is predominantly male. We felt the need to organize a group due to the fact that this community, down to the music it was promoting, was pretty closed off.
Admina: Individually, we don't have the capacity to resist and put ourselves out there in an exclusively male-dominated scene. By being part of group, not only do we attract and encourage other girls, but we are stronger together. Corp. is not just built around music, it's empowering for us as people.
Cosima: Besides, being part of a group makes you more responsible.
Is this the definitive formula for Corp. or is the platform open?
Corp.: We made this platform to be a safe and open space accessible to other women.
Do you all identify as feminists?
Cosima: Right now I see myself as an adept of intersectional feminism and as a "lipstick feminist", which is not a separate ideology in itself but rather an aesthetic commentary, a way of reclaiming  a certain aesthetic.
Chlorys: I relate to feminism that supports the rights of all women, no matter the social class, sexual orientation, abilities, ethnicity, etc.
Beatrice Sommer: Although it's not polite or useful to answer with another question, i'll do just that. For me, the right answer is "Why not?". From what I can gather, feminism is predominantly perceived either as a concept reserved for activists, either as something useless or even a cause that is embarrassing to stand by. With the latter, it's embarrassing because you're a woman and you would rather not accept the fact that you were/are/will be discriminated against or it's just something very womanly – obviously this is a sign of misogyny whether we realize this or not. The reality is so absurd that when you're in a club, even when the music demands it, girls don't dance so as not to appear "easy" and guys don't dance because it's too girly. Despite the fact that radical feminism is the most popular type, it's tragic to even ask and answer such questions but, within the coming years, things will change for the better if we take on the responsibility of fighting against these environmental issues… that is if we won't all die in 2050 out of ignorance.
How does feminism act with music?
Cosima: By carrying on Ada Lovelace's legacy. Ada was the one who built the first algorithm, she is part from a long line of women who contributed to the technological advances that music production later benefited from. On the other hand, we can apply the feminist ideology in everything related to music culture: clubbing, dance, aesthetics, etc.
Admina: It's a male-dominated scene and not just in Romania, but everywhere. Corp. Platform encourages and promotes people who identify with the female gender and fight against gender stereotypes that are omnipresent on the Bucharest electronic scene. We've retrieved and implemented the model of electro-feminism that has been around the world for a few years now.
Beatrice Sommer: In some cases, in a direct and political way – via the message clearly transmitted through lyrics, song names, album names or the names of musicians. Within the music scenes, it's important for women to be supported, to benefit from equal attention and gains from producers and curators.
Due to the way it is thought in schools, music is something problematic starting with the first school years, so not a lot of people wish to pursue music. It's absolutely unnatural, but it's vital for the competitive institutions that decide where, what kind and whose music should be heard and commercialized. Still, some people end up creating music and the women inevitably bump into male dominated fields that defy them. These are usually the social networks where people want to make money, to sustain financial structures that have been around for generations that still haunt us nevertheless. Those that promote creation, transcendence, mentalities and ideas that go beyond the pragmatic sphere and embrace diversity and inclusion are not seen as something competitive or in danger of self-sabotage. Despite appearances and the illusions that keep them alive, anyone can fill in the gaps they notice. All you need is collaboration and disinhibition. There are Facebook pages and groups run by women who found the courage and want to pass it on to others. In the clubs of cities like Berlin, London or Krakow, discussions on the inequalities and unfairness of the electronic music scene and being held. There are groups that creatively activate as organizers, such as female:pressure that have made a study on the gender proportionality represented in 2016-2017 festival line-ups.
Cosima: There are a lot of stereotypes flying around. Like women being bad with technical stuff. Which is not at all supported by evidence.
Have you ever come into direct contact with these stereotypes or have you only heard other stories?
Beatrice Sommer: I started being aware of this after I became part of Corp. I came across various types of exclusion and tensions later on. I understood that, in some cases, the main obstacles were that the fact that I am a girl and that I am young… I just turned 23 this May.
Cosima: Not directly, I was never in situations were I was outright turned down. Rather, things work on a subterranean level without people questioning various cliches that fly around. I think that at some point I've also assimilated this critique, and that's where all the problems started.
Whati does Corp. offer?
Admina: We want to work on more than just the DJing part. We hope that in a few years we will succeed in building a platform with everything it needs. Studios, promoters, everything.
Cosima: For now, everyone contributed with whatever they could and we bought some equipment. We have the bare minimum when it comes to technical equipment, we can work and practice. Now we're looking for a space that we can share with other women as well.
Where and what are you working on now?
Admina: At home. We go over to Chlorys and practice together.
Beatrice Sommer: We want to be able to access a space that is also a studio where we can also listen to music of all kinds with other people.
Cosima: We don't limit ourselves to just one medium. We want to produce music, to broadcast live, to go beyond parties with DJ sets and make a live set. Each of us is interested in a particular area of electronic music. I want to work with my voice, lately I am interested in a hybrid between techno and R&B, dark and heavy, slimy and sticky.
Admina: We're preparing the Corp. website, an online platform where we will attempt to archive our own history as well as interview people affiliated with electro-feminism. The scene is super-capitalist and dominated by white boys. We need to make room for ourselves among these people who are erasing our history. This is also an important component of our feminism, we aim to acknowledge who we are and write our own history. For us, for queer culture. Speaking of feminism: we are creating a space for women and queer artists.
Cosima: In Bucharest, only Rokolectiv (11 years) and Queer Night (6 years) have been promoting women artists and queer artists.
Admina: Simultan in Timișoara also aimed at respecting gender equality in parties (half the artists invited were women).
Admina told me that you don't wish to exclusively do parties, but also focus on education.
Cosima: We did that at Acud Macht Neu in Berlin, we had a talk before the party we were invited to play. Although the event itself wasn't very big, for us it was important to reach out to similar groups about what we do and then play music. With the help of the German embassy, we invited a group of women, the ://about blank collective from Berlin who are already recognized for the direction we are also working towards. They own a space in Berlin where they organize parties as well as educational events (conferences, workshops, debates, artist talks etc). Prior to the party in Bucharest, there was a very dynamic talk with them where a surprisingly large audience showed up, interested in the subject.
Admina: Generally speaking, there are no causes on the Bucharest music scene. Besides making some cash, there is no educational purpose. Party-party and that's it. This scene is very devoid of any content. I think educating the public is essential. Otherwise, our message rings hollow. Cause people can attend a party without understanding what it stands for, without thoroughly looking into the preoccupations of the DJs. We often tend to forget that parties are more than just fun, they also have a political impact.
Chlorys: Somewhere along the way, the founding idea and need that started these parties got lost, meaning safe spaces for the queer public who is constantly looking for an oasis where it is welcomed, loved, respected and at peace. Electronic music and dance have offered this force field, but there is a phenomenon that tends to wash away the oppression and pain that gave birth to these types of music and parties.
Admina: Initially, electronic dance music brought people together more than just under one roof; no matter the race, social class or sexual orientation. This side got lost and this is what we are trying to reclaim.
What do you mean it got lost? What's going on now?
Cosima: There is too much focus on marketing, everything is very mercantile. We can present our theory, statement, etc and echo an interest in this, but in the end it all comes down to quantity: who you are, how many people will be attending your parties. Clients, we have to reel in clients. Very few people, if there are any at all, take the risk just out of passion.
Admina: Yeah, that's what it's all about. Big names that bring a large audience that consumes. It's about quantity, not quality.
Beatrice Sommer: On one hand, there's enormous pressure to make money and position yourself as high as possible on the social ladder in a poor country, where the american dream is sold but no one can afford it… The fact that it's actually undesirable is something else altogether. Anyone who wants to overcome these harsh conditions ends up making money in the same way. They attempt to reproduce certain so-called marketing strategies with cheap but intensive promoting; expensive drinks that "work well" with the customers – real in some cases and imaginary in others – but not for what you would call the public, which is becoming extinct. It's a recipe that goes nowhere. There is no other gain beyond that. The pursuit of success is an obsession that makes people believe that anything outside the accepted standards is considered pitiful, embarrassing, for losers. It also makes them preach their personal interests as real values or noble causes that you must follow. The aim is having a lot of clients, lots of money, hype, fame. More, but essentially nothing. You can also do with little, you know. These mentalities are reflected in the ways in which bars and brands perform their activities as well as the aesthetics that DJs and musician choose, and those that attend the events based on these collaborations delude themselves into thinking that life must be worth living if the work week enables them to have a few nights after which they find themselves more or less hungover, or sexually satisfied even.
On the other hand, dreamers of a better world lack the determination and lucidity to have the courage to willingly refuse the validation of established groups: magazines, websites, labels, festivals, spaces, cultural projects that actually market corporations, and so on. We aren't teenagers anymore and less intimidated, I should hope, by the "perfect" faces and bodies we see in malls or commercials, but we still seem to have the same mentality when it comes to other things. Unfortunately, we don't know or don't want to associate responsibility with freedom. In these circumstances, freedom is seen as a whim – as Viktor Frankl put it. We all have the power to coagulate communities where we can overcome our limitations… we just need to allow ourselves to fail more. What matters is that we keep on creating and pursue our curiosities, or at least try. Right now, we seem to be stuck in the position of a disoriented, passive, forever consuming spectator or a nervous, unscrupulous salesman. Caught in the middle are the artists that restrain themselves in order to find a safe, cozy spot between the two. This division and issue can be found in all areas. The automatic imitating and importing of the models and formulas from abroad – obviously, the most visible ones – that discourage and do not work towards autonomy is something characteristically Romanian, where the notion of "authentic" has been trashed by the food industries along with the media industry. In Bucharest, promoters talk about "us", "you", they address the public as "friends" – "beloved" or otherwise -, we're invited to attend "unforgettable" evenings pack full of "novel" experiences. Not only is the significance of these words rendered meaningless, but in time they acquire other meanings just as hollow as the aspirations they attempt to mask. The imaginations of both parties remain sterile and the human relationships become ever so fragile while the promise of happiness reels you into an eternal far-away future.
Admina: Basically, those who hold capitalist power erase the rest of the smaller histories/initiatives. This is why we need a space of our own, a safe space where we encourage each other and grow based on other principles. First and foremost without this individualism. Especially since all debuts are hard and no one is really supporting debutantes.
Valentina conducted this interview in July 2017.
POSTED BY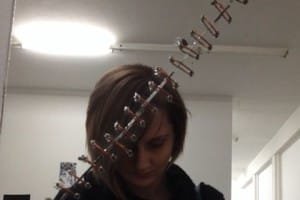 Valentina Iancu is an art historian and researcher. She works at the National Art Museum of Romania. Her research focuses on aspects of Romanian modernity related to the political realm, East European...