25 + 1 and 3 shells and a square game are two recent exhibition projects that come to mind as a flashbacks, similar to Polaroid pictures, whose common denominator is artist Irina Dumitrașcu Măgurean.
I've been following Irina's activity for some time and I took these two projects as pretense to conduct a more ample interview about her artistic activity. Irina's photographs have a very organic aspect with a dual quality: they are sensitive and aesthetically refined at the same time, yet they are harsh with the sincerity of a cutout description of reality. They remain ingrained in your retina just like flashbacks that surprise with the impact of simplicity. I would not label them as being part of a style, but rather the common element being a particular atmosphere that reflects a mature synthesis for a very consistent type of perception. With a complex personality and an admittedly constant route, Irina Dumitrașcu is an imposing presence on the artistic scene of Cluj with her coordinated artist-run spaces: Atelier Irina M as part of the Paintbrush Factory and presently Camera (The room) as part of The Interest Center.
25 + 1 was at the FIVE PLUS Art Gallery during the 2nd and the 14th of November 2016, a novel photo exhibition in terms of the structure and the route of the artists involved: Feleki Karoly, Dorel Găină, Eugen Savinescu, Diana Drăgan Chirilă, Alexandru Rădulescu, Angela Kallo, Andrei Budescu, Laura Ghinea and Irina Dumitrașcu Măgurean. A relatively heterogeneous show meant to bring together various generations of photographers who are all professors and colleagues at the Photography-Video-Digitally Processed Imagery at the University of Art and Design in Cluj-Napoca, it was more than just the Foto department's 26th anniversary, but a subtle visual x-ray for the activity of some of Cluj's most renown photographers.
Irina Dumitrașcu Măgurean's last project was another group exhibition together with Vlad Olariu and Radu Comșa: 3 shells and a square game at Camera, during the inauguration of Cluj's newest art center – The Center of Interest on the 8th of June 2017. A minimalist white cube exhibition, very clean and full of impact.
My discussion with Irina focused on all of the professional branches she's tested until now, starting with her attraction for photography, passing through her teaching activities and ending with her work as curator and the gain of the artist-run-space she is coordinating in the present.
How did you come up with the initiative to organize an exhibition such as 25 + 1 at FIVE PLUS Art Gallery Vienna
Seeing as this was an anniversary, we thought it would be better and more constructive if the event takes a life of its own. I knew Vienna's FIVE PLUS' profile for some time, a gallery oriented towards Romanian art, and I thought it was a proper space to break out the Cluj school of photography.
What does this project represent for you since you are triply involved as artist, curator and professor?
It's an important project in which I was very involved, though it wasn't easy. I've curated exhibitions in my artist-run space at the Paintbrush Factory before, but this time, in Vienna, it was an event of large proportions with numerous artists, a new foreign space. Besides, most of the organizing was long distance, via the phone, with my eyes on the gallery plans. From the artist point of view, it was also an important exhibition because of the space and the fact that we had the Romanian Cultural Institute as a partner. Last but not least, as a professor, I had the possibility of internationally showcasing the activity of the department I work in (Photography-Video-Digitally Processed Imagery) for gaining public attention and rising the notoriety of the University of Art and Design in Cluj-Napoca.
How would you conceptually and aesthetically synthesize this exhibition? What was its gain and how did the artistic route of the participants came to be according to it?
The central theme of the exhibition was the crisis of man in the contemporary era with it's multiple facets: loss of identity, loss of values, personal crisis, stress, confusion, fast access to information, technology and communication, the passing of time being perceived as faster and faster – all of these leave a mark on the personality of the contemporary man and the new generation is essentially brand new compared to the old ones. The works themselves differ in technique (black&white photography, c-print, cyanotypes on ceramics, polaroid, wet collodion, serigraphy, monoprint) but they also vary in visual perspective and approach (alienation in the face of nature, depersonalization and the loss of human essence via consumerism, the confusion and discomfit of contemporary man).
What is photography to you? How did it become your means of expression and how do you contextualize yourself within the contemporary art scene?
I've been taking photographs since I was little for fun, but I never thought I would end up working in this field. Initially I had a fancy for directing film when it came to college, but since I thought I was unripe at 18-19 years old to get into film school, I tried to find a temporary solution, photography, namely staged photography. But at this point, a new world showed itself to me, so I gave up directing and focused on this area.
For me, photography means (at least) two things: on one hand I think that the link between photography and time is essential, photography as proof or memory, especially in the polaroids I am working on. On the other hand, it's a medium that allows a lot of flexibility – through photography, I am attempting to distance myself from photography. I want to make my images more abstract in both technique and concept, so much so that the starting point of the images can no longer be recognized and the image itself raises questions on what it represents.
How do you balance your artist activities with your teaching position or even your work as a curator?
There is a good balance between my artistic activity and my teaching activity because working with students is stimulating: I am always trying to do something new with them, to bring something new to the table, I like to give each new generation of students a different work theme and each themes needs to be documented first (I use this documentation in my artistic work as well). I very much enjoy being a curator, that's why I have an artist-run space where I organize events while being involved in my own projects at the same time. Naturally, the priority is my artistic work.
Tell me a little bit about Camera, your new artist-run space at the Center of Interest in Cluj. 
Camera is a space for emergent and experimental art photography. I was planning it for a long time and, to my knowledge, Romania holds no such space that promotes contemporary photographic experiments. My schedule for the next few years will be pretty tight, there will be around four events each year where I will invite one artist, or more, to exhibit a project made especially for the space at Camera. My intention is to invite foreign artists as well in order to expand the local public's horizon. Camera's location is in the new center for contemporary art, the recently inaugurated Center of Interest, along with galleries Bazis, Baril, Sabot and Spațiu Intact. The Center also hosts artist studios, fashion designers and project spaces (A+, Bazis project space and Nano).
A common element in all the discussions I had with various photographers is that, in time, they all become more and more selective with the subjects they choose to photograph. Do you take fewer pictures with the passing of time? Are you more selective with your subjects or do you have the same approach since you started?
I am very selective. From a professional point of view, I don't think it's in any photographer's advantage to take a lot of shots of a subject and then chose the best one. An image must be reflected on and analyzed, otherwise it simply becomes a selection based on hazard and the quantity of work you have at your disposal. Perhaps working with polaroids has made me very picky because a pack has only 8 photos and I need to make an efficient calculation before I take the shot. Speaking of subjects, I usually photograph anything that catches my eye, from a word to a street scene, but these are more inspiration shots, like a note you make in your agenda. The images then pass through various processes of selection, correlation, just like a puzzle. Everything depends on what kind of project I am currently working on or what preoccupies me at the time. Sometimes I come back to some photos years later.
Your photos are minimalist yet pictorial at the same time. Do you intuitively cut out reality when you work on your compositions or is it a rational action to take away the documentary and narrative aspect? 
It's a mix of intuitive and rational. On one hand I've trained my eye to see and perceive certain cut-outs, but I've made it here intuitively, so to speak, via a rational process of analysis, documentation and research. My cut-outs attempt to stick to the essence, so this is why I want to remove anything that might inconvenience the reading of the image. One thing that I do with my works, especially the erotic ones, is that I never reveal what is behind them, this is why the framing is very sectioned. It's best for the viewer to play with imagination.
Which of your series of photographs do you think marked a change, your evolution as an artist so far and why?
One of the series that marked an essential point in my evolution is Humanscape, my PhD project. It was the moment I started eliminating everything I considered to be uselessly filling up the image until I ended up with minimalist photos with just a few lines. The idea of the project was to create instances of the body similar to landscapes, hence the play on words. At the same time, the pieces that were photographs were not suppose to disclose their identity or anatomical position, so I began clearing the composition of anything that could reveal, but not via Photoshop but directly through the camera. Another series that I think opened up new perspectives is Pleasure Journey, a project I worked on using the Polaroid. That was the moment I realized that with the polaroid picture I can capture more that just the immediate reality.
I've always felt that getting to the next level requires one to evade their comfort zone, to explore other contexts and meet new people. Do you think it's important to change location and travel or do you create the context of your photographs each time?
I enjoy and want to photograph any situation, but naturally a change of scenery and trips can influence and grow creativity, even vision on a short or long term. It's very important to see as many things as possible and keep up to date with the contemporary art scene via trips, seeing plenty of artworks in museums and galleries abroad, but I think an artist should be able to create in any given context. For example I had a period where I spent a lot of time indoors, with my children. I had to make my work context at home (composition, decorum, textures, etc). I could just sit around without doing something, trying out something. This seemingly narrow context did not necessarily mean a limitation from a photographic or artistic perspective. I did not stagnate, I kept working on my ideas.
What are your future plans and do you think there is something you have yet to explore in regards to photography?
In the near future I want to resume and develop my already existent project Porngrams – erotic photograms. This development will involve working in the photo and editing lab. I also want to continue my series of collages with the polaroids. Last but not least I'd like to test photosensitive materials and experiment with them. I haven't done much in this direction but I want to explore it. I find it fascinating and it is a very vast domain which can lead to many interesting things.
From a material perspective, is photography a means or dose it remain an investment? How can you make a living off photography in Romania?
From where I stand, it really depends on your position and context. I am a young emerging artist. The works I sell are bought by collectors who live abroad. However, at the moment I don't think I could support myself out of selling artworks alone.
If you were to describe photography in one word, what would that be?
Diary.
POSTED BY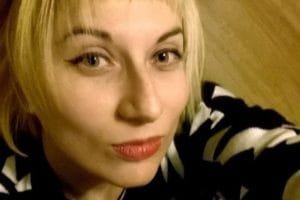 Ada has a BA and an MA in Graphics from the National University of Art and Design in Cluj-Napoca, and is currently a PhD student at the same institution. She is an artist active internationally and oc...