I met Laura Hunt last spring in Bucharest at her performance Exit Promises. Laura is a musician and artist from Australia, inspired by things like images of self-fulfillment and individualism.  "All we have is space" she says for describing her country. Paradoxically, the city where she lives suffers from locative problems. Even though Sydney has a superior infrastructure compared to Bucharest, the life of an artist living there has similar difficulties. On top of that, local nightlife regulations affects her activity as well. Coming from an artistic scene about we don't know so much, Laura Hunt speaks to Revista Arta about her experience.
Dear Laura, let me start by congratulating you for your performance within the News from Polska Festival: The Tickler and The Ticklee. I feel your music follows a characteristic similar to your whole persona – airy but firm. Can you tell me more about the process behind your work?
I played one of my first shows in Romania for the News From Polska Festival, following curator Larisa Crunteanu's invitation. Playing solo is a new venture for me and so it's also a new process, less of a conversation. Most of my recent artworks and music are fueled by incarnations of desire and spaces between realities.
A lot of my live sets are semi improvisational/instinctual – using beats as a backbone. And the beats are sample based – some of them are taken from DIY brain hacking audio, others are pitch shifted vocal samples. Depending on the track I'm working on, certain themes are revealed, always manifesting in dark electronic, beat heavy, dance tracks. Right now I'm attracted to areas where magic is manifested through the internet, mainly YouTube videos that promise life improving through audio, hypnosis, binaural and NLP. I'm especially interested when these videos align with a neoliberal ideology; some of my favorites, for the sound and subject, are a desire to be rich and better with women.
There is also a video component to my practice, the content is largely impromptu and mostly instinctually collected footage. A lot of the clips are taken from my Instagram stories actually! I'm really excited to develop this work with different cameras, perspectives and performers.
 Overlaid onto the footage are crawling poems and text that corresponds with the repetitive audio programming samples.
How did you come to work with this sort of material?
I think sound is one of the most powerfully affecting materials, and I love the transience and spontaneity of analogue hardware. For a long time before I started this project I was hypnotising myself on YouTube to get over extreme heartache. I found a lot of solace in the fact that all these people were hypnotising themselves for the same reason, potentially at the same time. There's something really inspiring about the potential of widespread collective change on a platform like YouTube.
What is your relationship with the individualistic desire of our times?
My relationship to individualism is maybe somewhat nihilistic because it's ubiquitous and transparently unstoppable on a wide scale, + It's connected so wholly with the political model of the west.
I do believe we are meant to live as a community and it's interesting to think about what's behind the desire for individualism from the perspective of a cultural virus. I guess I'm building some sort of relationship with things that involve group rituals that satisfy individualist ideologies.
Tell me more about your sources of inspiration.

My solo music is inspired by a desire for self-re-programming and productive leisure through the use of audio. EXIT PROMISES is a project that aligns with an interest in the post-human/ity and the occult.
Sounds wise, some of the most powerful and inspiring experiences I have had are with works by minimalist composers, especially La Monte Young and Catherine Christer Hennix. I draw a lot from their introspection, meditative and deep listening of textural detail from them.
My practice is also sustained by the importance of music to the wellbeing of community. I draw a lot of strength from the determination of the Sydney music scene and the incredible artists that comprise it. I need to give specific mention to my beautiful friend and collaborator, artist and musician Jannah Quill, who I am privileged to play with in our project WDK.
How did making music begin for you and what are your roots as a musician?
The beginning of music for me, like most music lovers, started with my parents and family who nurtured my insatiable appetite for music. I had a deep love for radio and constant music and my parents put up with me singing and listening to albums over and over again, but eventually my parents hid the microphone!
I stopped formal training because of personal circumstances but a series of very fortunate, coincidental meetings with some of my closest friends and collaborators meant that I began playing live again in my early 20s.
Ghastly Spats began out of a chance meeting/love at first sight when now long-term friend Heather Swan asked me to dance with her at a show. Together with Lincoln Brown (Housewives, The No) and later Colin Thompson (Bura Bura) we formed punk band Ghastly Spats. I also played briefly in band Drown Under with Jack Mannix (Circle pit/Dero Arcade), Dean Adam (housewives), Matt Nev (Mope City) and Sarah Davis (Orion). Currently I am so unbelievably fortunate to play with my main girl Jannah Quill in WDK.
What is the art scene in Sydney, Australia like?  
The NSW state government (Government of New South Wales) is all about the immediate dollar, privatisation and protecting individual elitist gains. Sydney on paper for artists is an absolute joke. Lockout laws mean that you can't buy alcohol past 11 pm or enter a club after 1.30 am. Noise is treated like a crime, giving police the jurisdiction to shut down events and revoke licences. Not too long ago, a show put on by the city of Sydney for VIVID festival that is a citywide event, was shut down by the police at 9.30 PM because it was too loud. So you can imagine the frustrations artists deal with consistently, the problem is systemic and overarching, no one is spared and it's had a gigantic impact on the nightlife and music scene.
Rent prices are exorbitant. Artist-run spaces, music bookers, musicians and artists have been forced to weather a pretty grim storm. I think it's remarkable that the art and music scene is so strong considering the dire state of Sydney compared with what I've seen internationally. I love Sydney but it's fucking challenging here. Also that's maybe one of the reasons why the scene is so amazing to be a part of, it would be idiotic to be overly competitive, because we need to help each other out to survive. The scene is as much a part of education, inclusiveness and respect as it is about music. It's not perfect but travelling through some other music scenes in the world has given me some perspective on how rare a truly inclusive scene is. I feel extremely lucky.
Is this mix following ideas like in the above? Can you tell us more about this the material that you prepared for Revista ARTA?
I really hope you enjoy it!!! It's not so related to the ideas behind my work, but all of these artists are an inspiration in some way.
 I'd like to give special mention to the first track on the mix by a super important band named Divide and Dissolve; whose aim is to abolish white supremacy. The mix is a pretty special compilation of tracks I love mostly current. It's focussed on the Australian electronic music scene. Some are good friends, other tracks are by artists I adore and respect.
Divide and Dissolve: Black Power 0-4:40

Fake – Ox 4:40-7:50 

Corin – Vexations 7:15 -10:00

Tru – Blaze 9:50 – 12:40

Poison – CCGC60 12:30 – 17:05

Laura Hunt – House of Blah Blah 16:45 – 20:25

Mute freaks Bradbury Mix – Ultra Hammer 20:12 – 21:35
Enderie Nuatal – Feed Time (working away) 21:18 – 28:00
Hviske – 7X 27:32 – 33:30 

Chunyin – Animus 33:30 – 38:00

WRX – Wintermute 37:43 – 42:30 

Jannah Quill – On top of you 42:00 – 44:00

MOB – Second Coming of Australiens 43:40 – 48:10
Edits by Larisa Crunțeanu.
POSTED BY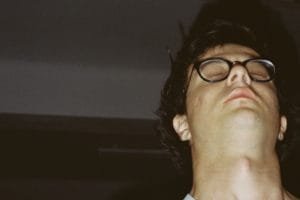 Bogdan Bălan (b.1997) is a student of Art History and Theory in the National Arts University Bucharest and Université Jean Monnet St Etienne. His interests span across various fields of knowledge in...