The intermedial programme at ODD NIGHTS, curated by Cristiana Tăutu and Andra Chițimuș, proposed for the first week of October a talk and concert by one of the electronic music scene's more complex characters: Antye Greie aka [AGF, poemproducer]. An East-German artist and producer, settled for some time on Finland's Hailuoto Island, AGF assumes a multiplicity of facets and roles – sound sculptor, poet, composer, gender activist, sound and new media curator – reconfirming by means of her own praxis Nietzsche's hypotheses on the self as dividuum as well as contemporary takes on the nomad subject and multiple, virtual identities. Concordantly, whether working with visuals or sound, she maintains consistency in her use of sampling, as the postmodern DJ's method of choice, employing that "creativity through selection" that, as old Manovich says, draws on the pre-existing corpus of images, effects, sounds, to the detriment of outdated ex nihilo creation.
Her experimental music, without calling for a divorce from the dance floor, proves hard to label. Her sounds at times echo musique concrète, other times glitch or noise, alluding to icons like Björk or Laurie Andreson. In spite of her clear poetic velleities, language disappears in some of her albums (Words Are Missing), drawing the human voice into a game with pure tonalities, beyond worn out recognizable speech. Ambiental sounds, synthesized voices, dissonant malfunction warnings, distortions overlapped on some pop star's mesh – Disturbia – Noise (Cover, 2008) RihannaMESH – all drain into the murky waters of the same atonal river of noise that fertilizes the shore of a post-digital aesthetics.
I'd add that the intermediality and interdisciplinarity, the subtle mix of poetry and activism, her interest for technology and nature (in and for itself) make AGF a paradigmatic example of the contemporary posthumanist scene. Her praxis finds itself at equal distance between what Rosi Braidotti, following Deleuze, terms becoming-animal and becoming-machine. The dismissal of anthropocentrism (i.e. the modernist view in which everything is interpreted through the standard of the human individual) and old humanism (its reduction of humanity to the traits and interests of a single class/gender/race/genome makes it imperialist in nature), as well as the dissolution of the divide between born and built are supported by projects like Mycelium Sonicfication (a participatory game where forest fungi become music-making agents) as well as in pieces that speak of the rhizomatic capacities of the internet, of the elimination of any hierarchy, or reiterate iconic narratives like Ghost in the Shell.
The installation titled Mycelium, in which mushrooms in their natural environment, alongside musicians, generate sound, composing music in real time, ties into a larger project titled (sonic) Wild Code, in which AGF and a group of artists, anthropologists, and computer scientists construct music starting from the audio feedback caused by rocks, wind, plants, streams, and a metal reindeer fence. These experiences in hybrid ecology (subsumable to object-oriented ontology's emancipatory program for objects in and of themselves) were commented on by the artist in a text which recently came out in Musical Instruments in the 21st Century (Springer, 2017), a volume with theoretical underpinnings, broadly, in Deleuze's theory of assemblages, of hierarchy dissolution, and free, rhizomatic relations.
Participation was employed in her Bucharest concert as well, where AGF encouraged the audience to bring their own sonic contributions to her performance. Maintaining the Deleuzian key, the sounds of the audience merged with the deterritorialized assemblage (along with the artist and her technology): filtered, mixed, amplified towards producing a familiar, yet overall new "chorus".
The idea of participation resonates naturally with that of inclusion, the artist stating therefore her support for underprivileged communities, be it by criteria of gender, race, sexuality, or ethnicity. She is an active member of the female:pressure community, and has militated for Kurdish and Syrian women and for the visibility of female electronic music artists and producers, actions echoed in the recent tendencies of Romania's art paradigm (see Bucharest's party scene and collectives, like Vagenta and Corp.). AGF's discourse (like the discourse of Bucharest's female DJs, like Admina, Beatrice Sommer, Cosima, Chlorys etc.) aims at promoting equality of chances and diversity on the electronic music scene, interweaving power and responsibility, the intersectionality imperative (by which we must both construct personal identity and deconstruct power hierarchies and centers) and aesthetic quality.
Having participated in Documenta 14 and Transmediale and received an award at the Ars Electronica festival (2014), Antye Greie is a complex artist, on the level of someone like Grace Jones, whose praxis, though socio-politically laden goes beyond mere ideology. Her fluctuating, modulating identity composes and recomposes itself from samples, comments, likes, and photos on Facebook, Mixcloud tracks, bytes circulating at dizzying speeds, always one step ahead of the newest control tech, where any self-respecting activist should stand.
ODD NIGHT #17 with AGF was on October 4 at ODD.
POSTED BY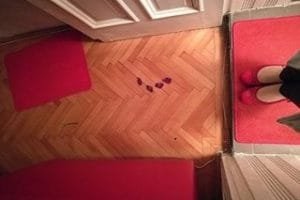 Raluca Oancea (Nestor) is a lecturer at The National University of Arts in Bucharest where she teaches Aesthetics and New Media Art. She holds a degree in computer science and one in philosophy of cul...
www.Dplatform.ro