I have a very pleasant conversation with Suzana Dan on a wonderful autumn afternoon, interrupted every now and then by the carpenter's calls, requests from guest curators and other urgent issues – all necessary things for an event at its 10th edition. Suzana replied to these with grace and a lovely smile. Below are the answers she offered to my questions about the entire project.
What is the concept behind The White Night of Galleries (NAG)?
NAG was born with the desire to create an event that would increase the visibility of contemporary art in Romania, especially for the local audience.
At the beginning, we thought that if we were displeased with the fact that, generally speaking, Romanian visual culture for the masses means nothing more than "The Ox Cart" painting and the events organized by the local administrations, perhaps the solution to making a difference was to actually do something beyond just having a critical attitude. This isn't about bringing contemporary culture to a communist level, this is a part the role of education that needs to be acknowledged as being extremely necessary for our projects because, unfortunately, Romania's society is not used to what culture actually means outside the museum.
In short, NAG is an annual X-ray for the contemporary culture of a city with everything it has to offer: diverse designated spaces, from established contemporary art galleries to alternative spaces, pop-up spaces that activate only on that specific night, artist workshops and creative industrial hubs.
How was the first Romanian edition organized? How difficult was it?
The first edition was fueled by a crazy enthusiasm and a very small team, a formula we applied right up to this year's edition.
We started NAG with the financial and logistical support of AFCN, ARCUB and MNAC and the initial idea of using all of the participating locations to promote projects that were selected by a designated committee: Aurora Kiraly (at the time curator of Galeria Nouă), Alexandra Croitoru (artist, assistant at the University of Art in Bucharest), Ştefan Tiron (independent curator and scholar) and Raymond Bobar (editor of Republik).
It was the smallest NAG, with a map of only twelve spaces and works by: Olivia Mihălţianu, Alina Popa and Irina Gheorghe (before they became known as the Melodramatic Bureau), Szilard Miklos and Sebastian Big, George Drîmbău, Dan Raul Pintea, Ovidiu Feneş, Oana Lohan, Marina Albu, MNOR (Mihuţ Năiţă & Roxana Orghidan), PEER TO PEER (Diana Duţă & Cătălin Ilie), Ana Alexandra Blidaru, Anca Benera, Ciprian "Tehas" Dicu, Alexandru "Ciubi" Ciubotariu, plus the numerous collective of artists involved in the art show "WE LIKE WHAT YOU DO". (http://noaptea-galeriilor.blogspot.ro/2007_05_01_archive.html)
When thinking about it, it was more of a collective joy due to everyone's involvement and less of a tear-inducing nostalgia, but for me the first edition of NAG was special, it felt so natural. It was obviously hard work, we made mistakes, but I never forgot what Ștefan Tiron, a very special person in my life, someone who I always go to for advice, told me: no matter how overwhelmed you are by your need to control everything, at some point you just need to let things roll. Although I am a bit of a control freak, starting this year I am bringing NAG to nine other cities, getting nine community organizations involved as local NAG organizers with full responsibilities, leaving Bucharest with administrating the online platform www.noapteagaleriilor.ro and taking care of the communication nation wide.
What where the good changes after the first year? What about the bad?
As I said before, the good thing was that NAG grew bigger each year, it became a small phenomenon that didn't turn into those type of events where people get their contemporary art fix at a sale. The NAG audience selected itself. Without generous resources for intensely promoting NAG, the public was comprise of people who know exactly what they venues they chose from the map that night. And when we had the extra funds, we would opt to organize a special event, to fund an artist's project.
We used the whole NAG structure to promote artists, we even asked an artist to come up with our visual identity. And I thank everyone who changed the face of NAG each year: Ciprian Dicu (the creator of the first NAG logo),the Ogilvy agency's creative department, Aitch & Saddo, Milos Iovanovic, The Oilers, Sorina Vazelina, Veronica Solomon, Studioset (Iulia Groves, Damian Groves, Andy Sinboy), Mircea Pop, Marwanesku Marwansky and Răzvan Cornici this year.
I don't think there were any bad changes. Even though up to this year's edition we only worked with a small internal organizing team, I see the fact that we extended the crew, the networks of partners, the local NAG organizers in the other cities as good changes. Even the decision to host NAG during fall is, in my opinion, something beneficial. Now all is left is to wait and see.
How does the community respond to the logistic efforts of NAG?
I hope they respond well. Nag, as a happening, is not the brain child of an organization, it doesn't belong to me, it doesn't belong to anyone. Yes, there is a juridical form, we are responsible for the structure behind the NAG scene. But NAG wants everyone to be a part of forming Romania's contemporary culture. No curatorial selections, no judging this as "good" and that as "bad". NAG actually represents the state of the contemporary culture in each of the host cities. This is what we offer to the general public and I hope it is seen as an event by everyone for everyone.
Tell us about the process of partnerships for each edition of NAG
The partnerships follow said edition's plans with everything included: financial resources, human resources and goods. Unfortunately, there are some difficulties in maintaining the annual functioning of such an event that requires a continuous effort in organizing, not just during the project itself.
Once we make the "shopping list", you start to identify the financial resources that are most suitable depending on their availability (I'm talking about local and governmental funding resources) and the companies from the private sector that could become interested in getting involved. Same with the communication strategy for the media partners.
NAG wants to close stable partnerships that could, over time, extend to helping other annual projects: The Gallery Weekend (www.weekendulgaleriilor.ro) and ART on DISPLAY (www.artondisplay.ro).
What does the 10 year anniversary edition of NAG look like?
It looks like a dragon with many heads! A beautiful dragon that I believe in with all my heart. We are celebrating the 10th edition of NAG with a retrospective art show that will remain open to the public for a month, we're celebrating the extension into the nine other cities with The White Night of Galleries spreading all over the country on the 30th of September and the Bucharest audience can see an image of these other cities within the project "No Man's Land", with ten focus exhibitions presented by the guests curators: Călin Dan (Arad), Cosmin Năsui (Baia Mare), George Roșu (Brașov), Simona Vilău (Bucharest), Horea Avram (Cluj-Napoca), Adrian Bojenoiu (Craiova), Cătălin Gheorghe și Cristian Nae (Iași), Dan Raul Pintea (Sibiu), Laura Borotea & Bartha József (Târgu Mureș) and Cosmin Haiaș (Timișoara). We're also taking the opportunity to launch the circuit of cultural location in Bucharest at the Scena9 residency (Str. I.L. Caragiale, nr. 32).
In addition to all this, we're bringing a group of foreign guests to Romania – Hilde de Bruijn, curator at Cobra Museum of Modern Art, Simon Hewitt, art historian, independent curator and journalist that writes for the likes of Art & Auction, ArtNews, Huffington Post New York or The Art Newspaper, Kate Sutton, independent curator and journalist, Artforum.com collaborator since 2008, Branko Franceschi, the director of the Museum of Art in Split, Croatia and Gunnar Benedikt Kvaran, director of Astrup Fearnley Museet Oslo. They will take part in NAG, as well as the round table discussion "Do You See What We See?", on the 2nd of October as part of the "No Man's Land" exhibition, a discussion hosted by Erwin Kessler, director of MARe, the first private museum in Romania. He will also take this opportunity to show as a novel preview for the future location with the art show "MAMUCA".
NAG will be extending to other cities. How did you select them? What are your exceptions for this nation wide development?
We followed the echoes of these cities in terms of extending their cultural life and the interest for contemporary art. It is a pilot project that I hope will carry on in the years to come and will maintain coherence and consensus between the cultural sectors.
We expect NAG to continue to extend in other cities in Romania. We started with ten, it is an immense effort to add nine new cities in one year, but the number of cities is not fixed. This number can grow depending on the interest of future NAG centers.
Locally, we would love if the White Night of Galleries becomes more than just an ephemeral night, even though the art shows we produce during NAG stay open for the public for about a month. But these are future plans we're still working on.
If you were to do it all over again, what would you change? What would remain the same?
Personally, now I wouldn't accept to multitask to the point of critical physical and mental exhaustion. The pressure of these extra tasks and seeing them to completion is a very dangerous things that – if you keep repeating it – can lead to the impossibility of properly leading and to the proper development of an event
Ideas are useless if you can't bring them back to life together with other people. I'd like to keep everyone I've ever worked with close. I am grateful to all and I know that without the contribution of those involved – ideas, work and time – NAG wouldn't be.
What are your future plans?
I would really love it if all the permanent projects by the Ephemair Association would come together and form a more coherent program. I'm talk about NAG, The Weekend of Galleries and ART ON DISPLAY. There is a common thread to all of them: promoting Romanian contemporary culture and its dedicated spaces. The profile of each of the participating locations – depending on how long they stay open – and each category of audience we cater to touch up on different aspects of this common body of work. I hope that this will eventually lead to the wide audience not seeing contemporary art as an exotic element, but as an extension of culture in a normal society.
I think it is important that a real investment be made in Romania in contemporary culture and in the truly competent people working in this sector. We shouldn't be surprised when a public campaign such as the one for acquiring an important art work fails due to the fact that the mechanism for understanding the need for such an acquisition is not just valued in money, it is also valued in concepts that depend on society's assimilation and understanding of culture. This is our as well as the funding system's duty, it is the duty of everyone working in the cultural department, no matter if we're artists, curators, gallery or cultural managers.
It should be known that today's culture is not just an element with added aesthetic value to everyday life, but an essential part of society. A society that is culturally lead by TV and a cultural agenda made by people who are equally good at politics, art and business unfortunately faces a futureless future ahead.
Where do you see NAG in another ten years?
I dare not dream. I hope with all my heart that the team we build with this edition stays on. I am happy that, starting this year, Ana Blidaru, one of the most organized and sable people I've ever met, is the project manager and I think this is one of NAG's biggest gains. Although we start each year's edition with zero resources, the fact that the event has become quite notorious is helpful for promoting and effectively producing it. What matters is that we assure the project's continuity, something that implies the ability to sustain ongoing activity that is already a necessity for NAG all year round.
I trust that things will get better and better, otherwise it's a pity. There are so many extraordinary people around me and I sincerely hope that we will find a way to sustain ourselves in order to further grow the platform for promoting Romanian contemporary culture.
Thank you and good luck!
NAG #10 takes place on September 30, 2016.
POSTED BY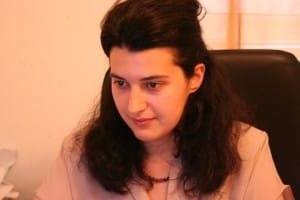 Andreea Grecu is a cultural manager and lecturer. Between 1999-2004, then from 2009 onward, she is active on the NGO scene, as member of cultural associations and professional unions in domanis such a...