Founded in 2011 by artist Alexandra Croitoru and curator Magda Radu, Salonul de Proiecte established itself, in recent years, as one of the most representative contemporary art cultural institutions in the country. In the summer of 2016 the saloon quit the umbrella of MNAC under which it functioned following its first years of activity. After this relocation I had a talk with the founders about the Salon's history, difficulties and the future plans for this project.
Valentina Iancu: Please tell me more about the history of the Salon. In what context did it emerge and what did you initially have in mind with it?
Alexandra Croitoru: The idea  of the Salon rose in a a rather informal context in 2010. After the Christmas party of the Video/ Photography department of UNArte we went to club Control at Victoria Passage and inevitably we ended up talking about the issues that young artist have, about the dismals and lack of opportunities following graduation. I am referring here to the lack of logistic and financial perspectives which affected all of us who studied Arts after we finished our studies. I am not sure how we arrived to the conclusion that if someone could do something about this matter us two, together, would stand a chance. We were both teaching at UNArte and Magda was working  already with MNAC. It has been sort of like a New Year's resolution. Thus next year we rallied ourselves and we proposed to Mr. Oroveanu, the then director of the museum, an exhibition programme thought-out for a whole year at the second floor of the annex on Moșilor. From the beginning, the idea was to produce new partnerships, to collaborate with new coming artists and to encourage an inter-generational dialogue.
V.I: What was the relationship with MNAC like and in what ways the fact that you functioned within this institutional frame conditioned or influenced your practice?
A.C: Things need a little nuance here. As we all know, in Romania, most of the times an institution is defined by the person in charge of it whereas long term institutional strategies are rather non-existent.  Occasionally this proves to be to your advantage but oftentimes not. Only bureaucracy survives every mandate. In our case, we were lucky that Mr. Oroveanu understood what we were about to do and encouraged and supported us up to the end. Things went on naturally: we would have proposed the annual schedule and the necessary budget needed for its implementation. It has never happened for any of our projects to be rejected, the only discussions revolved around funding. Still, our budgets were small compared to those for Casa Poporului nonetheless we always worked with the conviction that money should be spent thoughtfully and responsibly, that something constructive must come out of public funds.
V.I: The Salon established in Bucharest the (democratic) practice of Open Calls. Within this paradigm how did the selection process go? Which are the criteria that you proposed to the jury teams?
Magda Radu: We were also thinking lately that perhaps we contributed in a way at this dissemination (which has reached some alarming odds) of open-call practices. Even museums have adopted this model which, to me, raises some additional problems. However, we have chosen this model for the reason that, in those days (2011 when Salon had its debut), there were not such initiatives whereas young artists were deprived of financial and institutional means to materialize their projects. What we have additionally desired was that we would not set ourselves up into selectors of the proposals, instead  we have attributed this task to local and international artists. We tried, this way, to blur the line between artists and curators. Nevertheless our role remained essentially within this enterprise because we overlooked and contributed step by step to the materialization of every individual artistic project, not to mention the decisions regarding the layout of each work into space, the writing of expository texts etc. In retrospect, I realize now that the curatorial dimension was for all that, present, however in its rather soft form, of a quiet, discreet accompaniment of the work in progress, understanding the role of the curator as that of a partner to the artist and not as a prescriptive entity which builds up a rigid selection and expository frame. Even when we invited artists to produce works (aside from open calls) a certain availability to let things happen (naturally in a controlled manner) has always been there, precisely not dissolve the space for open possibilities through which an idea can grow in unpredictable ways. But the liability concerning the settlement remains, in most part, yours as a curator. That is why we have always sought to identify the best solutions so that an art work would fit well within a space and communicate intelligibly with the rest of the works.
V.I : The exhibition Space is not the Final Frontier comprises artistic projects which were also selected during an Open Call. Please tell me more about this project.
A.C This exhibition was important for our programme for twofold reasons. It opened the new space at Universul and, in the same time, it closed the series of annual Open Calls that we unfolded in the last five years. We have never discarded our support for young artists however, in the future, we are going to do it 'by invitation'. Also, this autumn, we are going to launch a periodical which will feature all those above 60 projects we had produced as a result of open calls. The selection we were talking about has been made by Nedko Solakov and comprises works by Luminița Apostu, Maria Baroncea and Alison Peacock, Lucian Bran, Larisa David, Ivana Mladenovici and Ioana Păun. We were glad that the majority of those selected, as in the previous exhibitions, are working at the verge of multiple disciplines (art + history/ theory of art/ performance/ film/ theater). Some works had already been initiated becoming finalized only during the exhibition or they were produced as sequels while others were especially conceived for this occasion. The project which best marked this moment in which we find ourselves was that of Luminița Apostu, the letter  through which she encourages us to think of the time that passes over us while doing art (and exhibitions in our case). When we first started the Salon we knew it will consume a lot of our time, nerves and energy. However if we were to draw a line now after five years of activity we could say that, at least, time did not pass us by for nothing).
V.I: The Salon's projects covered, in general, artistic practices which were anchored in the social, those artists that oftentimes do not find their places in commercial galleries. Is this an acknowledged statement of the space?
A.C: Our interest in those practices that bring to discussion social issues is certainly one which we have assumed since we started. Moreover, this interest did not extend only to the presentation of some already existing works bu to the production of new projects. This does not mean we did not work with artists exhibiting also in commercial galleries if their projects seemed interesting to us. I believe we are flexible enough to understand that in Romania there is not actually a clear division between the market and the non-profit area. The market is hardly existent and a good share of commercial galleries organize some valid exhibitions oftentimes without a commercial outcome.
V I: What happened with the works that you have exposed? Are they in the museum's collection? Did they also circulate in other exhibitions?
M.R: The works that have been produced belong to the artists. Sadly we did not succeed in connecting this production effort with the museum's collection as it would have been beneficial for all parts involved. We have initiated a series of talks and discussions regarding this aspect with the directors that  succeeded at MNAC in the last five years but we have not reached any conclusion. Truth be spoken there are miscellaneous administrative impediments in the sense that there is not a definite legal frame in place through which this thing could be made possible without all sorts of judicial artifices. It would take a lot of institutional will whereas we have never pulled up strings at a higher level of the institutional structure. Fortunately, the works have their own life and many have been exhibited in some other contexts. Iulia Toma's installation, produced by us, was shown within Vienna Art Biennial of 2015. The same year some other works exhibited at the Salon were included in Art Encounters Timișoara (a film by Ivana Mladenovici and a video by Anca Munteanu Rimnic). Subsequently there are projects with a remarkable institutional trajectory as it is the case of the installation of Anca Benera and Arnold Estefan 'The Principle of Equity' 2012 which was included in various solo or group exhibitions- the Biennial in Istanbul in 2013 among others. Or there would be the library-archive of alcoholic drinks collected across Romania by artist Banu Cennetoglu from Istanbul, an archive that traversed, as well, many exhibitions such as her solo exhibition from Bonner Kunstverein from last year or the Triennial of Sculpture from Fellbach Germany (2016).
V I: Why did you dispart with MNAC? How did this rupture affect you?
A.C: The budget of the museum shrank every year so that at some point we were constrained to open an association through which we started collecting funds from other sources. In retrospect, this became the first step towards working independently since the cord which bind us to the museum was, in most part, financial in nature. Moreover, there was a period of interims that destabilized ourselves organizationally and made us look into the future with disquietude. Even so, we were not prepared for the new management's hostility towards our programme and their plans to reconvert the building of the Annex into a creative hub where contemporary art (as we understood it) did not belong any longer. Within this context we refused the museum's offer to relocate in a space at Casa Poporului, am offer which involved as well major changes to our programme so in the end we have decided to try and function independently. It has been a difficult period for us, more so because we had already projects in place at the Annex. Starting with last year's summer we functioned in nomadic conditions and we managed to finish our projects in collaboration with other institutions such as the Art Encounters Foundation, the French Institute, tranzit.ro/ București or UNArte.
V.I: How do you operate now? Have you changed your working principles? What are you planning for this autumn?
M.R: We have not changed our working principles. They have stayed the same, in the sense that communication between us is essential to everything what we are doing. We have only developed another entrepreneurial side. We need to constantly think at collecting and accessing funds simultaneously with the programme we are trying to build. It is an additional pressure, oftentimes paralyzing, but with a possibly higher degree of satisfaction. We are very glad that we managed to cover our autumn- winter term by winning funds from AFCN and ARCUB. Now we are collaborating for a group exhibition curated by Alina Șerban – The PowerPlant of (Unwitnessed) Tales and this November the duo exhibition of Mona Vătămanu and Florin Tudor will be varnished. In connection with this exhibition programme which gravitates around the relationship between art and architecture we are organizing a workshop with students from UNArte through which we are trying to analyze from a critical perspective some public monuments in Bucharest. The results will be presented within a public presentation and a short term exhibition.
A.C: The exhibition The PowerPlant of (Unwitnessed) Tales will open on the 21st of September and was designed by Alina Șerban. She took as point of departure Dziga Vertov's 1926 text The Factory of Facts and the urbanist and sociological studies dedicated to civic centres in Romania between the 1960s and 1980s. In parallel with a historical research new works will be submitted, specially created for this occasion by studioBASAR, Matei Bejenaru and Nicu Ilfoveanu. Șerban Savu will install in the exhibition space a mosaic aligned with his painting practices. In Alina Șerban's envisioning "within the economy of the exhibition, the events, subjective experiences, the images or the architectural objects become stimuli for a wider reflection upon the city's life, upon the disproofs and transformations underwent by the mundane space, upon all untold and unknown histories". In October a series of conferences are programmed to be held by architects Irina Tulbure, Lara Popa-Florea and Alex Răuță that will contribute to the discursive side of this research and which will reflect itself int o future publishing format.
V I: Therefore you are going on also with theoretical activities (talks, conferences, publications). Could you please elaborate on the projects you have already organized in this direction?
M.R: I am inclining towards any institutional construct depending on the lacks and necessities that exist in a certain context. And I have figured out that the discourse surrounding contemporary art is insufficiently present in Bucharest. I have always been worried that the local relevancy of what we are doing would not fall into provincialism, not only in the sense of what we are elaborating but also as a predisposition as a state of the climate within which we are activating and, to a certain extent are influencing. Hence the idea of proposing these intense communication sessions with a speaking guest each week that we titled La Seral. We have already organized two editions in autumn 2014 and spring 2016, the latter taking place in partnership with the National University Bucharest. The second Seral's theme was that of curating between education and institutional construct, a formula which synthesizes my own professional interests at this moment. I was interested in finding, on my turn, to which survival tactics do other curators resort to when working in contexts shaped by political, economic or cultural hardships. For the problems with which institutes of contemporary arts confront themselves with- those which are not completely instrumentalized by restrictive political practices or subordinated to market regulations- can be found everywhere in the world. It was for this reason that we, in a more or less conscious manner, rallied ourselves with those types of institutions that regard contemporary art as a perpetually open trans-disciplinary territory in which it is possible to imagine and create things that cannot exist in another place.
V. I.: As an independent a more stringent discussion regarding the relationship between art and capital opens itself. How do you perceive this relationship?
M.R: I do not deny that this is how things work. I take it as a bet that the Salon will come through in the long run by combining public and private funds. I believe it is important that there are as many participants in the art scene from the non-profit zone that would counterbalance the growing influence of commercial initiatives that disseminate a coarse discourse on contemporary art. There are galleries with a worthy exhibition programme but what we need are durable institutions that would not regard art an entertainment brought to light and exhibited only during festive events. In what concerns our own trajectory I am relying on the existing solidarity within our artistic community. The support received from important members of our local art scene proved decisive in continuing this programme.
All photos of projects between 2008-2016, taken by Ștefan Sava.
English translation by Georgiana Cojocaru.
September 27, 2016: The National Museum of Contemporary Art – MNAC Bucharest, has to react to three statements from the interview Space is not the final frontier, published by Arta online.
In that material, Alexandra Croitoru states that MNAC manifested "hostility" to Salonul de Proiecte's program. This is false, considering that MNAC has supported Salonul unconditionally, as its own project, from 2011 until mid-2015, and after that made efforts to keep Salonul de Proiecte within its structure.
Croitoru says further that MNAC's offer to relocate Salonul's activities at its venue from the Palace of the Parliament was involving "major changes" of program. MNAC had never interfered with the content decisions and the work formats of Salonul de Proiecte.
Croitoru implies that Salonul was removed from its previous venue by MNAC's decision to transform it into a "creative hub". False again, since the building was closed due to suspicions concerning its security. The suspicions were confirmed by an expertise that classified the building as high risk.
Salonul de Proiecte has terminated its activities within MNAC of its own will, rejecting the offer of a venue change and also rejecting the offer of a partnership with MNAC. MNAC has communicated in a transparent way every step of this separation process. Coming more than a year later with misinterpretations is not only regrettable but also unfortunate, since it contributes further to an unnecessary polarization, for which the Bucharest art scene became already ill reputed.
POSTED BY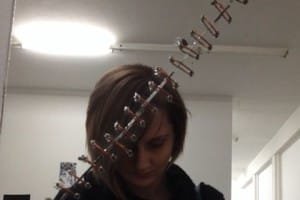 Valentina Iancu is an art historian and researcher. She works at the National Art Museum of Romania. Her research focuses on aspects of Romanian modernity related to the political realm, East European...