Using the audience in the process of creating the art, the kind of practice where their simple participation can represent the artwork itself, is an increasingly common choice among the local contemporary artists. Oftentimes, this kind of discourse aims to remain outside of creating a physical, marketable product, focusing instead on the connections and ideas exchanged during the process. Within this context, the artist denies their status as sole author of the piece, becoming a co-author in a collaborative project together with the audience, their joint participation producing a situation. Entrusting your art to a group of strangers with wildly different backgrounds and potentially divergent opinions breeds an air of spontaneity and uncertainty into the piece, which is what makes participatory art all the more exciting.
The real merit of these actions is galvanizing a group dialogue between the participants, thus helping to break the social contract of polite silence often imposed by having a group of strangers in a room, especially during an art opening. It's an opportunity to witness the beauty of human connection in real time. Participatory art has an immense impact, which requires a collective effort.
Mimi Ciora proposes such a project at Lapsus. Lapsus is a project-based space and art laboratory based in Timisoara who aims is to support emerging artists working in new media, experimental and collective-based art. Alex Boca and Cătălin Bătrânu founded the space in October 2017 looking to support "non-linear approaches in order to reach the non-institutionalized, post-academic potential of the creation process, as well as creating new links between creators, theoreticians and society" (Lapsus website). While the space may be modest in size, this constraint can be played to their advantage when it comes to bringing participants together.
Hailing from Oradea, Mimi Ciora finished her master's degree in graphic arts at the University of Arts and Design in Timișoara. She finds inspiration in her daily life, as well as in the actions she's putting together, while her work is predominantly figurative. Aside from her artistic practice, Mimi Ciora and Lapsus have a shared past: she used to work with Sergiu Sas and Vlad Gheorghe Cadar in putting together Spațiul 2/2, "an independent art space aimed to inspire a dialogue between theoreticians and art practitioners working in institutional critique and discourse" (2/2 Facebook page). Currently she's teamed up with Sergiu Sas and opened the independent artist-run space Indecis, with Alexandru Grigore's Solo show Linia for their debut.
Throughout the drawings presented at Lapsus, Ciora has been striving to represent her animals as realistically as possible without letting her personal style infuse the artworks. This has been a long and draining process for her, which took more of a toll than she had imagined. However, the emotional surcharge of the participatory action was reinvigorating.
The project was inspired by the accelerated disappearance of animal species in recent times. If in the past most species became extinct due to natural disasters such as earthquakes, volcanoes or asteroid collisions, nowadays human activity plays a crucial part in this process. Our wild life and its ecosystems are rapidly falling prey to the Anthropocene despite our best efforts to reduce its impact. Aside from pollution, massive deforestation and the plastic crysis, illegal hunting alone has led to the disappearance of countless species. Our planet is slowly dying under the Anthropocene and exquisite animal species are gone before our eyes.
Erase is certainly not the first, nor the last piece tackling the subject – since the '80s artists have started to consider their art's potential in supporting environmental causes and how their platform could raise awareness on ecological issues, which were less visible in the mainstream discourse at the time. In 1983, Andy Warhol starts his Endangered Species project in order to raise awareness on the topic of endangered animals from across the globe. These types of actions led to the creation and enforcement of a series of laws and protective measures to help preserve natural habitats. But ecologically-oriented art initiatives continue to this day: just in 2019, Klaus Littmann created a large-scale public art installation. The art mediator transformed the Klagenfurt, Austria Wörthersee football stadium into a real-life forest, which invited visitors to view nature as spectacle.
In a similar vein, Mimi Ciora's hometown project is a collective exercise in imagination, a small and ambitious project with an undetermined number of participants, all engaged in the same action, while contemplating the same cause and developing a series of ideas together. "Could we really change the world with a simple act of performance art?" asks the artist.
The answer is, of course, rather subjective, but what Mimi Ciora manages to accomplish is an homage to all the recently extinct animals. This symbolic gesture is achieved by her consensual destruction of her own carefully created artworks: the opening text invites the visitors to physically erase the animals drawn in pencil directly onto the gallery's walls. The simple act of erasing an animal's image creates a potentially meditative pause in the viewer, offering the time to think about the biosphere and our negative impact. As animals were disappearing line by line, the participants started referring to their erasers as "white weapons", perfectly describing the mix of absurd humor and terror of the situation.
The effects of this invitation were slow to show, as participants were initially quite shy, holding their erasers without daring to act. Bit by bit, small body parts started to disappear: a leg here, an eye there, an ear or a beak are taken away from the composition. Soon enough, as if fuelled by a collective destructive impulse, the audience begins to chaotically erase everything in sight.
The beauty of meticulous shading and gracious lines made the space into a sanctuary dedicated to extinct species. But, just like in real life, humans took over and reaped everything away from the plane of existence. If at a certain point the viewer could establish an emotional connection with the species on the walls by imagining them in their natural element while thinking about their disappearance, once the erasure process began, the quiet, solitary meditation space of the gallery became an increasingly noisy and confusing environment. The atmosphere grew increasingly tense, with each participant harboring a growing amount of tension they didn't seem to know what to do with. On an infinitely smaller scale, history was repeating itself. At the end of the day, has Mimi Ciora achieved her goal? That is a question each participant would have to answer for themselves.
Erase by Mimi Ciora took place Friday the 31st of January 2020 at Lapsus in Timișoara.
Translation by Andra Nicolayi
POSTED BY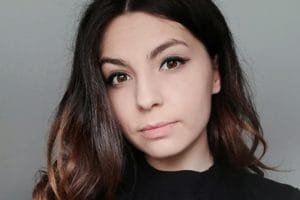 Ioana Terheș got her masters degree in the History of Art, Heritage and Curating at the University of Arts and Design in Timișoara, during which she also completed the degree program in polychrome w...