The East Art Mags residency gave me the opportunity to interview Judit Angel, one of Romania's pioneer curators. Her career began in the 1980s at the Art Museum in Arad and continued for an extended period at Műcsarnok / Kunsthalle; she is now the director at tranzit.sk/Bratislava.
Judith warmly welcomed me into the space she was coordinating, open to my inquiries about her consistent and coherent path. What I got was an insight into her personal approach, where time, space and social context become the essential coordinates around which intervention and critical discourse take shape.
Why did you chose to become a curator? What was that key moment that determined you to take this path?
For me, curating was not a decision but a process. I was 16 years old when I decided to study Art History, wishing to become an art historian. At the University in Bucharest I was trained as a museographer. I ended up at the Art Museum in Arad where I first started working with the art collection, which included decorative art from the 19th century. Obviously, I was more interested in the 20th century. As a first step, I extended the museum's collection with Romanian art from the 1980s, which I also exhibited at as part of the Sequences. '80s art in Romania. Then I realized that I could approach things in a different way and that what I really wanted was to work with living artists. So I put forward a call for Art Unlimited srl, to which many artists from the all over the country responded, and the exhibition took place in 1994. Somewhere along this road I became a museum curator. At that time, in 1994, the term "curator" was still new in Romania. It was only after 1989 that it came into use on the art scene. Thus, my curatorial development was a complex and contextual process.
In 1996 you were the curator for The Museum Complex exhibition, whose concept was linked to the institutional conditions at that particular moment in time. What was the impact of the project? How do you think it was received? 
I have to add that during the opening of the exhibition I invited many people from the all over the country, even from abroad, from Austria and Hungary, because it was a Romanian-Austrian event. It was received mainly by a group of specialists (artists, curators, art historians). The art world art is quite small. But the vast majority of Romanians who had any inkling of such contemporary art discourses have seen it. Apart from the audience in Arad who would either visit the museum or not – because the issue of the exhibition was precisely this: the museum was isolated. This is why the institution itself was placed on the dissection table. I wouldn't say it had a very big impact, at that time the internet was not so widely available, there wasn't any possibility of promoting events like you do nowadays. But it was good that it had entered the professional and the art history discourses. The Museum Complex was recently mentioned in Cristian Nae's study of institutional critique in Romania in the 1990s, published in 2016. [i] In turn, I was invited to present this exhibition and reflections on the institutional critique in Romania in various forums in Budapest and Berlin.
What were your biggest challenges in 1999 when you were the curator for the Romanian Pavilion at the Venice Biennale with the Report project?
I think the hardest thing for me in 1999 was that I had never seen the Venice Biennale live before. I became a curator following a contest, it was the first contest to be held in this respect. At that time, it was harder to travel, and a museographer's salary was small, one could not afford to do cultural excursions / exhibition tours. It wasn't as common as today, when there are so many possibilities: one can go to the documenta, Venice, etc. for research. Back then institutions were not in the habit of sending their staff to expand their horizons, to have an international perspective. The concept I applied with won me the contest, but as I was developing this concept, I never saw what was actually going on in Venice, I only has access to catalogs. So I was in the know about the previous edition, where Adrian Guță had a project at the Romanian Cultural Institute, which materialized as a review of Romanian art in the 1980s – a precursor for the changes that took place later. The meeting with all the pavilion curators in March or April also helped a lot. The Biennale opened in May, so I was able to see the Romanian Pavilion for the first time a few months before the grand opening, but I went alone. The trip was funded by the Ministry of Culture; I would have wanted to have the artists along with me, but there was no financing. It was very likely that Dan Perjovschi, Călin Dan and Iosif Király have already visited Venice as cultural tourists, but not to conceive a site-specific exhibition. In her book, Daria Ghiu mentions this in a chapter on "abstract curating". And that's precisely what it was, I've been through this experience and I think this was the hardest thing I had to do. Speculatively speaking, what worked out well was the fact that I was able to access information (library, press releases) that made it clear that if you want to be taken seriously at the Biennale, you have to bring something very up-to-date, very contemporary, and the artists in question to be somewhat known throughout the international art world. So it is not advisable to bring a new artist who is not internationally known, even if they're good. They would have to be excellent in order to make up for the lack of media coverage. It's best to participate with artists who have an emerging reputation, emerging artists. Many artists become internationally known later, like Geta Brătescu. So for me the choice was very clear, there were the subREAL group and Dan Perjovschi who, at that time, had gained notoriety across borders and fulfilled these conditions. I had chosen names, not concepts. I thought of something that could unite them, I talked to them and found a common denominator; subREAL had an archive activity dealing with the records of  Revista ARTA and the entire program around it, and Dan Perjovschi was archiving the present, his drawings being daily social commentaries, resembling a reporter activity. This is how the idea of Report came to be; it made sense conceptually and also tied the artists together. When it materialized, form what one can gather, there was a discrepancy between how Perjovschi perceived the concept and subREAL's vision. Dan Perjovschi's reception had a larger impact, he eventually drew on the floor of the pavilion in English. Some of the sketches had notes that directly invited the viewer to have a certain reaction, while the work by the subREAL group was more mysterious; it included the photographic series Serving Art which – besides the visual impact – could be understood only if one read the catalog or, at the very least, a press statement. And that's a discrepancy. I am not saying it as a negative thing, but this was noted in the local reception of the works. Conversely, the media coverage about the Romanian Pavilion at that time was positive, they did not bring this issue up.
How did When History Comes Knocking, with Plan B in Berlin came to be? Why did you select these artists for this context?
The exhibition touched upon Romanian art and its phenomena at the turn of 1989, art from the 80s and 90s, focusing on artists with an experimental approach. The subject I wanted to explore was about the post-communist transition, with the idea that the transformations that took place in 1989 began progressively before the Revolution, with changes taking place in attitude, mentality and culture. Of course, the process of democratization and capitalization of Romanian society lasted for about ten years, which motivated us to select artists from the 1980s and 1990s working with photography, video, installation, action, performance or even digital art. This experimental direction was far less visible before '89 because language and technology innovations were not tolerated by the system. The Revolution was an "eruption" of these artistic mediums in Romanian art because the recently gained freedom was also interpreted as an opening towards new genres and artistic means. The artists wanted to experiment, see what happens with a camcorder or a digital camera. Thus, the early 1990s saw an emergency on the artistic scene, the artists were trying to recover everything they could not do before the Revolution, to meet the new demands, to find new places, to earn their livelihood. There were a lot of impulses and everyone was trying to cope with the new challenges. In this case, new media was considered more suitable for a quickly reconnecting to the contemporary international art. We selected the artists who have historically assumed this direction, with consistent bodies of work. I tried to avoid the feel of a historical exhibition, even if history was in its title, I did not want to conceive this as a museum exhibition.
Was When History Comes Knocking an invitation from Mihai Pop?
Yes, I was invited by Mihai Pop to do this project, and he wanted an exhibition on cultural and social transformations on the Romanian scene at the turn of the 1980s and 1990s. Sooner or later, those years will also become historicized. But Mihai Pop wanted to speed things up and purposed we do this now, the subject he proposed also happened to be the subject of my doctoral thesis. It was a very good collaboration, inspired by the space of Berlin's Plan B Gallery at the time – it was their first Berlin space, not the one hosting the gallery today. Seeing as the exhibition was aiming for experimental directions, we wanted it to occupy not only the so-called exhibition space, but also the adjacent spaces. We had works exhibited in the lobby, in the office, and in the warehouse. So, we actually opened all the Plan B rooms with this atypical approach.
Tell me about the time you worked at Műcsarnok/Kunsthalle, in Budapest and some of the more important projects you produced there.
At the Art Museum in Arad, I had my own schedule, so it was pretty hard for me to get used to the situation of being a hired curator, meaning that in most cases I was not working on my own projects. However, after two or three years, I was able to do projects I wanted to do. The first exhibition was in 2001, called Servíz, and analyzed ways of communicating with the public, based on the rules of the game that we challenged the artists to. I have developed a rule for offering services inspired by a marketing guide (what does it mean to offer a service and how you behave when you offer it) and have launched an open call to artists to send their projects based on these principles. The condition was for the provided service to be real, in the sense that the visitor would be offered something palpable to facilitate a meeting with the artist. This was a reaction to the Hungarian art scene where self-pity was a rather obvious trend. The artists lived in a so-called "ivory tower" and complained about the lack of real contact with the audience. I figured that if the problem lies with communication, let's create a situation where communication is almost indispensable. Hence the idea of ​​services that facilitate the encounter between the artist and the public, putting them face to face. To my surprise, this call was very well received, we got a total of 35-40 proposals from which I made a selection and produced the art show. As luck would have it, Servíz was held simultaneously with two other exhibitions at Kunsthalle. The display was very interesting because the curator of one of the parallel exhibitions, Zsolt Petrányi, who later became the Kunsthalle director, had a project that dealt with the climate of the Hungarian art scene, with works displayed in the standard formula on the wall: paintings, videos, photos. Our services were projects in the middle of the rooms. Thus the two exhibitions were complementary to each other, being in the same space. It was both exciting and irritating – some were irritated, others inspired, because they were our background (the other exhibition). The money allocated to the project – not a bad sum, in fact plenty of money for that time – were used for production, but we couldn't afford to build a store front for our services even if we wanted to, it would have been too illustrative – so it was fortunate that we had a "classic" exhibition around us. Thus, we were positioned in the viewer's way, in the middle, and embodied the performative aspect. Servíz's display was as performative as the artists' projects. And they were very exciting, for example, Peter Hecker's Rent an artist – who collaborated with other artists, made a portfolio, and during the show, for a certain fee, visitors could hire an artist from his project. And some of them were rented, the service was a dinner with the person who hired the artist and a discussion about art. There was also the alternative where the artist played the role of a guide for contemporary art shows. There were a few wealthy art lovers who paid, rented one of the artists, and went to a show opening together, where the artist explained what it was all about.
There was another very good project in Servíz worth mentioning, that of Sándor Bartha. At that time mobile phones were around, but they weren't as popular as they are today. He created a sheltered space in the exhibition hall with an armchair and a land line telephone from which you could call the three curators of the parallel exhibitions. Via the call center, the phone was connected to the curator's cellphone and you could call them, talk about the exhibition, anything you wanted. I very much hoped it would work, but the other two curators were skeptical. Eventually they got upset that visitors who wanted to talk to them called them on weekends, during their free time, at the Sunday table. Throughout the exhibition we had many conversations with various visitors. Some just called to test whether the service really worked. Others asked questions, displeased about certain aspects of the exhibition. That was when I had to give a few art history lessons, to explain how art works post-Duchamp. Generally, they were nice conversations, I'm thinking that those who did not enjoy the show just didn't call. There were also some dissatisfied viewers, I remember there was a journalist who wrote a negative review in a more conservative newspaper of that period. She was in and out of the gallery in ten minutes, the guards told me. I was surprised she did not call the phone service if there was need for any clarification. It was a very challenging experience to speak with the visitors in this equation where they were anonymous on the phone. We did not actually see each other and perhaps that made us more open to each other. People opened up and were actually honest about what they thought. The anonymity situations turned out well, people were quite brave.
There was another show with the Cluj local art scene, European Travelers, which was a middle-ground between a curating plan and being a hired curator, because the two directors at Kunsthalle, the one that left and the one who replaced him, both wanted a show about Cluj's art because they heard about the Art School in Cluj and The Paintbrush Factory. It was cool to have art from Cluj and since I was Romanian, they thought I was the best person to handle it. Honestly, if it were up to me, I would have never thought to make an exhibition with art coming from one city.
That's what I wanted to ask, what do you think ties these artists together?
I handled things differently, I tried to have a constructive attitude towards everything I was asked to do and I thought: I won't exhibit art from Cluj, instead I will exhibit the Cluj art scene, which is something altogether different, if you ask me, even though the exhibition itself looked the same – one could see paintings, sculptures, videos, photography, but behind them stood the supporting art institutions. The exhibition's catalog is where this aspect is most obvious: there is the list of artists and the institutions that back them up. I've always been interested in the dynamics of art scenes, precisely because from my early days as a curator I had to handle institutional critique: I am interested in the link between art and sociology. Unfortunately I did not get the chance to study the sociology of art, but I felt drawn to sociological analyses and treating the art context from the perspective of sociological or cultural studies, so I've always been interested in the dynamics of an art scene. I've been writing about the Romanian sphere since the late 90s. In light of all this, for me it made sense to organize this exhibition only if I can work with the Cluj art scene. This was the formula that got accepted. When I elaborated the concept, I did not just present a success story, but also what was backing it up, meaning the individual and group initiatives – especially in the private sector, since there were no other institutions besides the Cluj Art Museum, the University of Art and Design in Cluj and the Paintbrush factory, a collective initiative, but private non-the-less. Starting with the late 90s, when the Soros foundation left Romanian, leaving behind a institutional and financial vacuum, it was precisely 1999 when the AltArt association was founded, along with many others, together with Balkon that eventually became Idea. People found new ways to keep themselves active and self-sustained.
It was a pleasant experience to collaborate with an architect, Attila Kim, for the first time. I managed to convince Gábor Gulyás, the director of Kunsthalle at the time, that we could use an architect who could also work on the concept, not just visually, and help us distribute / setup the entire exhibition. In fact, he came up with the idea of having the institutions sit in the apse; due to the fact that the Kunsthalle plan for the exhibition space is like a church, there is an apse in the back, the most important – the motor. The strong point of the art show was the fact that the art works were in the foreground while the institutions were placed in the background, as a symbolic positioning. Attila constructed a kind of work table for everyone, a light box with a lamp that created a chiaroscuro atmosphere, half darkness. It had the feeling of a work in progress, as if people are working at their stations day and night. Self-organized initiatives and institution, like the University of Art, were invited to present themselves in this exhibition. Of course, the artists were selected, I spoke with each one and concluded what would be the most feasible and sensible way to exhibit.
Since late 2013 you've been the acting director of tranzit.sk / Bratislava. What do you consider to be your most significant projects at tranzit.sk? Tell me a little bit about your last one, Small Big World.
It was a challenge to work in a context that appeared foreign to me, at least at first, and with a language I did not know, like Slovak. Surely everyone speaks English, but that's not the point, it's about social life in its complexity, art history articles, a lot of material is only available in Slovak. We're talking about another history here, another context that I did not get the chance to follow since I started being a curator. It was natural for me, when I was working in Arad to follow what was happening in Hungary, but not what was happening in Slovakia.It wasn't as close and I did not have any contacts. Thus the context and language itself have been and are a challenge. On the other hand, I was invited to apply for the contest for this job and I won. I had to develop a program for a new context, and I did not want it to appear cold, as a foreign product and be inappropriate. I wanted to try to adjust my personal ideas and needs to what is here, to meet the needs, to try to fill some of the gaps in the art scene as best as possible. To design a program to try to do something that others do not. It was hard to have to conduct a research on the Slovak art scene and to draw up a relevant and coherent exhibition program at the same time, on the fly. I was trying to react – to bring more interesting and exciting exhibition and artistic models that are not quite known here. For example, in Slovakia there is a well-established tradition of conceptual art, especially in the 1970s: conceptual art and object art, which do not necessarily overlap. So , I wanted to propose some research-based art projects. Art involving a project is much less popular. My interest focuses on the relationship between art and society, something not very approached in Slovakia, although I can say there are but a few cases of artists who are interested in this subject. It also seems that interdisciplinary art is gaining more and more attention. Since I started the program in Bratislava, I have emphasized all of these aspects, in an attempt to organize more lectures and workshops in this respect, including art theory and curatorial theory courses. Small Big World, the project I made last year, was based on the theory of networks, a contemporary theory that, among other things, maintains that if you are not part of a network, a web, you have a low chance of survival (assuming that everybody is part of a network, it is impossible to not be part of one nowadays, and the more developed your network is, the better your chances at survival, that is the structure of current society). Network theory also helps us to better understand the complexity of today's society.
I asked notable artists and curators from the Slovak sphere, more precisely from Bratislava, about their goals, what they think is out of order within the art scene here. I was told that I perceived it as being quite isolated from the international art scene, although there are positive exceptions here as well. Another aspect that was pointed out was that the scene is very fragmented and that certain groups of people do not communicate with each other. I tried to find some explanations, and the theory of networks actually showed that there is nothing wrong with that, such is the fabric of human society, fragmented into small groups – those clusters that are tied to certain nodal points that have power. Newcomers do not go towards the marginal point, but towards the center. Those who wish to exhibit their works would rather do it at Kunsthalle than in a small gallery because Kunsthalle is the magnetic nodal point. At the same time, those who are tied to these nods are fragmented into small groups that do not necessarily meet. The theory raises the issue of circulating information within these groups. As a result, I came up with the Small Big World title with the idea of gathering projects that discuss friendship and communication with people from other walks of life, representatives from other backgrounds. We had art works and we also outlined the results of an online research elaborated with sociologist Zuzana Révészová. I addressed some questions about Bratislava's art scenes and, based on the answers, she drew up an essay that was illustrated by a graphic designer, as an info-graphic. This was part of the exhibition, I was interested in materializing / visualizing the results of a research in a format other than publishing a book or writing the results on a website. For me, the info-graph was a kind of framework for the exhibition, and the projects were interventions. Some works were also in the city, in small shows, not only in the tranzit space. Martinka Bobriková and Oskar da Carmen built a canteen that remained open for a week in a café bar. At noon anyone who mentioned they were part of the art scene could eat there, receiving a free hot meal via their social status. Thus, we had a chance to analyzed and shed a new light on the social status of the artist, which usually is, as we all know, quite precarious. As a conclusion, the project also had a critical dimension
What projects would you like to work on that you haven't got round to yet.
I remember, many years ago, I was working on the Balkan Konsulat Budapest exhibition in Graz and I was with Lia Perjovschi. She asked me a similar question, and then I said to her that the art that interests me has not yet appeared. Surprisingly, Lia had a positive reaction, she replied that this means I'm seeing far into the future and that it's good that I don't dwell on the past. Nowadays, my statement is not true anymore, I can not say I have't seen art I got attached to.
As far as my future projects are concerned, to be honest, I would offer myself a grant if I could and I would drop everything for at least half a year to read, just read. And then, let's see. I would like to work on projects that are slightly different than before, I definitely want to do research projects that run over a longer period of time, two years maybe, and develop a particular theme. The results of the research would materialize in an author's exhibition, in an artistic project, workshops or screenings, etc. It should be a long-term study because at the moment I feel very fragmented as a director of an institution with punctual projects due to having invited curators, collaborators. As a director, I'm not just an administrator, I must also have an intellectual contribution when I talk about these projects and be as familiar with the subjects as their authors. There are many themes floating around and in future I would like to limit them. In fact, the following exhibition, Start and Finish, addresses this situation: we take an active break where we are trying to get the most out of project-based work and its repercussions on the cultural producer and the art institution. The bibliography is complex, from Boltanski & Chiapello to Boris Groys, Bojana Kunst, I am excited.
It has become a custom for me to ask this question at the end of interviews – if you were to sum up your entire activity in one word, what would it be?
Intervention, construction, haiku, oh well, that's three words …
[i] "Between the "transitional" discourse and the "normal" one. Trends in institutional critique in the Romanian art of the nineties", in Art in Romania during 1945 – 2000. An analysis from the perspective of the present, published by the New Europe Foundation, Bucharest /  UNArte publishing, Bucharest / MNAC, Bucharest, 2016.
POSTED BY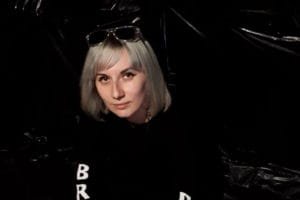 Ada is a Graduate of University of Art and Design in Cluj-Napoca and has a PhD in Visual Arts (2019), conceiving a research thesis entitled "The Human Body as Image and Instrument in Contemporary Art....