April 10, 2018
Formal Encounters
Written in red, the phrase "Formal Encounters is an exhibition of the artist at her most private public moment" closes with a bang the curatorial pseudo-fiction that accompanies the most recent exhibition at Nicodim Gallery in Bucharest, Formal Encounters. American curator Ben Lee Ritchie Handler's proposal is a glamorous show about non-binary bodies and non-conforming sexuality, rife with surprising associations that some tastes might deem provocative. The curatorial statement is a dada-like overlap between short story and advertisement that simulates the atmosphere of "debauchery" facilitated by a dating website. The virtual space unshackles the imagination and gives one free rein to express (and, most of the time, experience) any kind of sexual fantasy. Hence the exhibition's title: a subtle reference (which would likely elude non-Americans) to the Craigslist section dedicated to sex ads, titled "Casual Encounters", which was taken down in 2010. Clues about the curator's intentions are diluted to the point of spatial dissolution, where every possible radical artistic gesture is minimized within the ambiguous neutrality specific to commercial de-contextualization.
Lacking from the exhibition is any informative material or the smallest intention of transforming the social event into one of knowledge/learning – something quite necessary in today's Romanian context. While Romania is getting ready for a referendum towards restricting non-existent LGBT rights, non-heterosexual and especially non-cisgender reality remains invisible. In such a void of representation, Formal Encounters could have been a much-needed breath of fresh air. Curator Ben Lee Ritchie Handler however is interested in art from a strictly formalist, and evidently commercial, perspective, and therefore consciously erases any socio-cultural dimensions of the project in favor of object fetishization. I won't rehash here an authoritative argument on deconstructing the limits of formalism; I live with the impression that in spite of the market's trends, certain self-sufficient curatorial models will become obsolete. There is indeed this privileged position some have from which they can ignore what's going on around them and instead satisfy their pleasure of contemplating form. Ben Lee Ritchie Handler was educated and is active in an environment where emergent queer aesthetics have already found formulas for becoming established. Firstly, the series of blockbusters organized in various museums has considerably increased the visibility of queer art in the United States, especially in recent years. The institutions' opening towards queer art has facilitated the infusion of curatorial practices with new criteria specifying the need to include queer subcultures in the cultural mainstream. In this state of things, queer art has become cool, has lost its radicalism, and can therefore return to the primary function of art: decorating the homes of those who can afford it.
Formal Encounters is a spectacle exhibition that relies on the visual exoticism of extroverted sexuality, on the spectacle and glam of queer identity. The curatorial process can be seen as an attempt to jumble exhibition customs, by mixing together graphics, painting, sculpture, ready-made, video, photography, and design, in a relatively small space, without a catastrophe as the end result. A well-tempered excess in the white cube of Nicodim Gallery. More precise, though untranslatable, the exhibition attempts to queer curatorial practice. This verb "to queer" is one of the key terms of the project, but has no equivalent in Romanian. Queering is a process of reevaluation and reinterpretations of existing norms and practices from the perspective of gender studies and queer theory. It would be tough to sustain a discussion in the Romanian language, which is still unadapted to the needs of contemporaneity.
Returning to the exhibition at Nicodim Gallery, in "their most private public moment", the artists explore gender and sexuality from perspectives defying traditionalist hetero-patriarchy. A motely world is revealed, through gestures, poses, or attire, running spectacularly on fast-forward. On a close look – beyond the chromatic exuberance and the blend of textures that give the show its spectacular character –, when seen from the perspective of publicly assumed intimacy, which implies vulnerability, the series of works reveals itself as an apparently chance encounter between poetic discourses, mostly generated by politically significant personal experiences (first and foremost through the empowerment entailed through the display of these stories for queer visibility). The works complement each other visually at times, while in other instances ignoring each other and functioning separately, occupying a distinct place in space. In some cases, juxtaposition turns from useless to ridiculous. For instance, Anna Uddenberg's two fingers, placed before a lesbian couple painted by Czech artist Daniel Pitin, remarks, in poor taste jest, on lesbian sexuality. Pitin makes use of the language of the still-in-fashion new wave of capitalist-realist painting, a gray, uneasy style. What is referred to among artists as "messy". With subject matter often confined within the limits of his own everyday, privileged banality, Pitin now finds himself fascinated by the eternal object of male fantasy: lesbian affection. Girlfriends continues a long (and long-time criticized) history of male painters painting lesbians.
In this, I repeat, surprising jumble, what stuck with me was the work titled In the intimacy of the spacecraft, by Mi Kafchin. She has returned to Bucharest with a new personal and artistic identity, one much stronger yet, at the same time, more vulnerable. In the intimacy of the spacecraft represents a sex-change operation carried out on a space ship. Context is key here. Memories from the Depths of the Thetys Sea, an exhibition organized by Diana Marincu at MNAC in 2016, brought together an ample selection of works by Kafchin, among which a series of paintings and drawings. At that stage of her work, Kafchin would impersonally explore, taking a contemplative approach, a post-apocalyptic world, burdened by technology one would associate with diaphanous landscapes or Romantic ruins. A captivating yet tame eclecticism. The recent turn towards the self, fusing her art with her personal experience in a careful representation of sex transition, has brought her work to new aesthetic and political heights. The most concise explanation of this complex universe that reveals itself to us in dense symbolism is offered by the title of her personal exhibition at Judin Gallery in Berlin: Self-Fulfilling Prophecy. I see no point in even wondering whether Ben Lee Ritchie Handler is aware of what it means to be transgender in Romania, the kind of baggage that comes with the socialization into this traditionalist environment. It probably doesn't matter; Kafchin's merit is that she will never fail the test of quality in the eyes of conservative critics. Sadly, In the intimacy of the spacecraft wasn't put in the spotlight, despite having more content in itself than the entire curatorial concept.
Formal Encounters is at Nicodim Gallery in Bucnarest between March 16 and April 28 2018.
Translated by Rareș Grozea
POSTED BY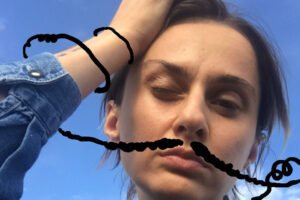 Valentina Iancu (b. 1985) is a writer with studies in art history and image theory. Her practice is hybrid, research-based, divided between editorial, educational, curatorial or management activities ...