The gallery owner Mihai Nicodim doesn't deny himself of ambitious projects: after launching the painter Adrian Ghe­nie on the international market at an astounding level, he returned from Los Angeles to his hometown, Bucharest, where he opened the gallery that bears his name. Now situated in the sumptuous space in the Enescu Museum building, this gallery not only presents well known or upcoming Romanian artists, but also international artists for which an exhibition in Bucharest can be more picturesque and interesting than the trodden paths of the West. I think that this is also the case of the young Chinese artist Zhou Yilun, traveling through many European capitals, Vienna, Budapest, Bucharest and Berlin.
In Bucharest, his exhibition with a strange name "The Monkey on Horseback" is a display of nonchalance and force. Starting from the European equestrian statuary, where in the place of a hero he positions a monkey, Zhou Yilun constructs provocative and creative visual objects, which in fact deconstruct various archetypes of the Western art history. But he does this with humor and grace, and although he uses found objects and sculptural elements taken out of their contexts, he carefully wraps them in plastic foil and covers them in graffiti in order for them to lose their initial meaning. This cheekiness towards current modern imagery, obtained through the insert of different domestic objects, techniques originating from cartoons or street art, is a trend among the international young generation of artists of different exotic origins, whom you can see in Paris or New York. In Zhou Yilun's art, this cocktail of contradictory cultural elements doesn't have the alluvial and demanding vehemence of other artists sharing the same genre, but a type of guilelessness, pleasant purity which finally offers the feeling of comfortable honesty and freedom regarding personal expectation and prejudice.
Danielle Shang joined Zhou in a conversation to reflect on his Romanian experience.
What role did your experience in Romania play in this exhibit?
I went to Bucharest without any premeditated plans. When I saw the gallery, I was impressed with its turn-of-the-century flamboyant architecture and interior decoration. The city itself though looks very much like other European cities: old buildings with sinuous and floral motifs, graffiti bombed streets … . The Communist era left its mark on Bucharest's architecture, which was however not my focus for this show. I was looking forward to producing a body of work specific to the museum-like spatial configuration of the gallery.
I saw, in your work, reference to imagery of Christianity and European mythology, as well as Chinese zodiac, but you have managed to undo their original meanings and deflate their contexts.
I visited a few local museums in different European cities prior to arriving in Bucharest. The application of gold in the religious icons and luxury objects for worship and for the enjoyment of the aristocrats fascinated me. I had never used gold color nor articulated the color of gold in painting before. The gallery space inspired me to experiment with the color of gold. Hardly anybody paints directly with gold color; yellow, manipulated with certain techniques, is often used to represent gold. I also selected a couple Chinese motifs (such as the monkey) that are easily recognizable as the subjects and depicted the texture of gold or scratches on the surface of gold or even the reflection on gold on them. Sometimes I sprayed gold paint directly onto the canvas. The other colors, such as black, green, and purple that I applied are to highlight the color of gold as well as to create a dialogue with the architecture. The mythological figures, ancient sculptures and crafty objects in my work should be viewed as part of the narrative of the building; together, I hope they create moments of stimulation.
Why did you revise and deconstruct your own paintings so many times? You also added seemingly random objects onto your paintings.
I was extremely lucky to be able to find wrapping and construction materials, mostly foam or Styrofoam, whose color schemes of pastel green, apricot, grey, and blue put the icing on the cake. Completing a painting can be accidental. Some of my paintings were completed as soon as I began, such as White Gold (2016); some made me toil over and over again, then they suddenly appeared finished. I was very fond of the cheap construction materials with their peculiar colors. A few times when I didn't know how to continue, the colorful materials came to my rescue like angels.
Now looking back to this body of works, does anything deviate from your original intentions? Do you see any mistakes?
I'm not satisfied with the last 2 paintings. The strong color schemes of red and blue are inconsistent with the rest of works. They also seem scanty. I don't think they were my A game. However, the last-minute small portraits are nice surprises.
Zhou Yilun's "The Monkey on Horseback" was at Galeria Nicodim in Bucharest between May, 12 – June, 11, 2016.
POSTED BY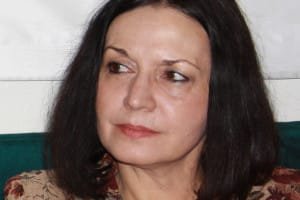 Writer, art historian, and curator. Ph.D. in art history at Ecole des Hautes Etudes in Paris (1997). At present, she is visiting professor at the National University of Arts Bucharest and the editor-i...
magdacarneci.ro